Qiu Xiaofei: "Apollo Bangs Dionysus"
[Press Release]
Pace Beijing is pleased to announce the opening of Qiu Xiaofei: Apollo Bangs Dionysus on 8 May, 2014. This exhibition is the artist's first solo show at Pace Beijing, and will end on 21 June, 2014.
The exhibition title in Chinese spells as "Nan Ke Jie Cheng", which is derived from a thinking of the way of painting. Qiu Xiaofei intentionally presents a clear gap and fault between the states of "dreaming and drunken" and his painting direction. On the other hand, the English title "Apollo Bangs Dionysus" vividly reveals such coexisted status of tension and openness: in which the artist eliminates and balances those "unruly drunkenness" and "anti-formed impulses" utilizing "the form and order of dreaming" and "the conscious limit of dreaming". Since 2009, Qiu Xiaofei has gradually shifted his ponders of memory into the exploration to consciousness and potential psychological activity. These approaches in art include forms, color structures, mediums and furthermore, a liberal transformation and selection of action and process, which do not limited to any of the elements. This is a procedure of constant generation and opening. In the new paintings exhibited in this exhibition, Qiu Xiaofei attempted to draw out the texted logic thinking from direct movements of painting in order to welcome a contagious painting practice and an evolution of painting itself.
The exhibition is composed of three parts. In part I, a work of an old computer retains a clear and recognizable image, even illusively talks to the audience that the artist seems to return to his original artistic creation – but the true meaning is completely different. This main subject was not from memory but from its irregular frame: in the top right-hand corner of the frame there is a square gap, and the artist fills this shape using a random object chosen from his subconscious. This unusual shape is likely setting a "trap" that coexists thoughtfulness and willful action – step by step, it triggers the artist's choice of painting themes, as Qiu Xiaofei once said, this is the phenomenon of "one shape's influence over another shape". Paintings in the second part of the exhibition occupy the majority of the show. While some random colors spread to a particular area of a painting, some images were distinguished from realization, and the whole painting process gone to a freeze when the narratives are about to reach a completion. Now it makes the audiences start to realize that the artist is ambitious to build corresponding foundations for his painting (whether for its surface image or core content), however he still introduced unconscious factors into the whole creation process. In between, he claimed that he would resist any tendency that is beyond clarity. In the last part of the exhibition, the forms that have been generated in the melee were referenced back to the reality, which names the installation that combines paintings as Dissipate Drunkenness, and it develops a broad yet constraint dimension between dream and inebriation.
Qiu Xiaofei created works for this exhibition with a widely different thought level in a new way of working, whether it is embedded with a unpolished and powerful brush strokes, emotional splashes, a wide color gamut, and floating geometries; Or the variable images gradually inferred from cut frames; and to the paintings accompanied by light and wooden structures…these combinations and invocations of element are establishing an relationship of vitality between the artist's own body and the canvas that is always in expectation. If we will regress our artistic practice to reality, it is what the attitude refers – the genuine placement is not on this side, or on the opposite side. It keeps groping in a nonexistent fairway where no side can be found.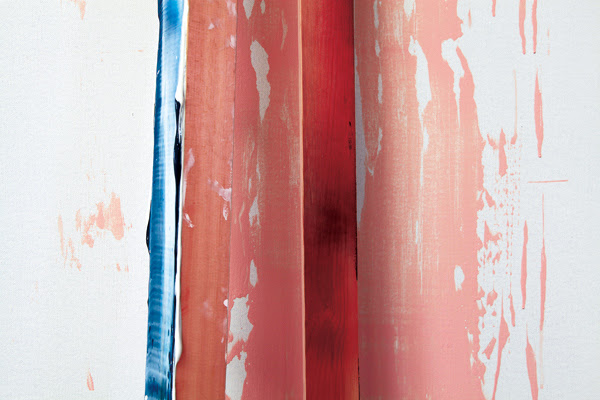 About the Artist
Qiu Xiaofei was born in 1977. In 2002 he graduated from Department of Oil Painting Studio III in China Central Academy of Fine Arts. Currently he lives and works in Beijing. Qiu's solo exhibition Repetition was held at the Minsheng Art Museum in Shanghai in 2013.His recent works has been included in group show at Boijmans Van Beuningen Musuem (Rotterdam, 2004); Ullens Center for Contemporary Art (Beijing, 2013);Minsheng Art Museum (Shanghai, 2009/2010/2012/2013);Today Art Museum (Beijing, 2012), 10th Havana Biennial (Havana, 2009); Museo Nazional e della Scienza e della Tecnologia Leonardo da Vinci (Milan, 2009); Groninger Museum (Groninger, 2008); Art Basel 2008 (Basel, 2008); ZKM Museum (Karlsruhe, 2007); Tate Liverpool (Liverpool, 2007); Kunst Museum (Switzerland, 2005); Art Museum of Central Academy of Fine Arts (Beijing, 2003/2004/2005) to name a few.