RICHARD LEWER
Kokoda: The Adventure of a Lifetime
Sullivan+Strumpf Sydney
[Press Release]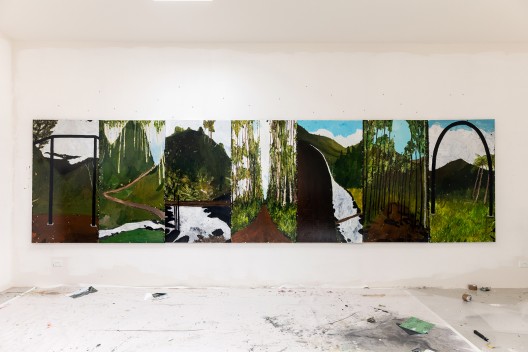 Richard Lewer's Kokoda: The Adventure of a Life Time references the war-time propaganda sold to Australian Soldiers who embarked for New Guinea during the Second World War with a romanticised image of the deadly situation and extreme conditions they were to face. Informed by his own recent experience of walking the Kokoda Track in Papua New Guinea, Richard Lewer's Kokoda: The Adventure of a Lifetime, responds to this history and the track's enduring legacy. Structured around the seven days taken to complete the journey, the exhibition includes seven portraits of each of the local guides who assisted Richard and his team on the trek; two large five-meter paintings, one representing a different aspect of the landscape on each day of the journey, the other responding to the history of the war; and a series of thirty-one drawings also responding to the history of the war. The project draws together contemporary and historical accounts of the Kokoda Track in order to understand it's ongoing relevance.Working across a broad range of media, including printmaking, video and animation, painting, and drawing Richard Lewer's work is accessible and familiar, with a critical edge that probes what is beautiful and sinister about our society without injecting a moralising tone or political message. Less concerned with factual storytelling, Lewer's work employs tropes of endurance, physicality and failure to explore the way that places can become repositories for the psychic residue of painful or extreme events.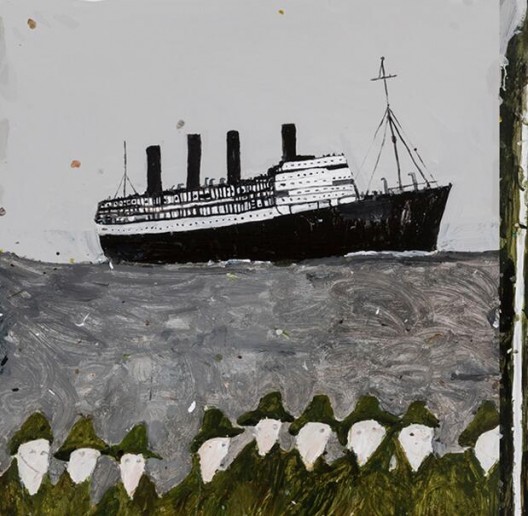 As part of this, Lewer is interested in experimenting with notions of the artist as commentator or interpreter, which often involves documenting both familiar and unfamiliar places or historical events; a key component of which is exploring the relationship between studio activity and life outside the studio. In this way he is often creatively motivated by a personal response to an active engagement with a subject through both research and participation. In 2018, this aspect of his practice lead Lewer to undertake the Kokoda Track.
RichardLewer's selected recent exhibitions include: Weapons for the Soldier, Hazelhurst Regional Gallery and Arts Centre (2018); State of the Union, Ian Potter Museum of Art, Melbourne (2018); The National: New Australian Art, Carriageworks, Australia, (2017); Sappers & Shrapnel: Contemporary Art and the Art of the Trenches, Art Gallery of South Australia, (2016); Next Wave Festival, (2016); The Custom of the Sea, St Paul Street Gallery, Auckland University of Technology, (2015); and Epic Narratives, PICA Salon, Perth Cultural Centre, Perth, Australia, (2015).