RICHARD LEWER
"Life, Love and Death"
Sullivan+Strumpf, Singapore
[Press Release]
Sullivan+Strumpf Singapore is pleased to present a major new body of work by Richard Lewer. Life, Love and Death includes paintings that are based on old photographs depicting everyday family life and exploring events that shape us all as we grow up: family homes, milestones, celebrations, pets, friends, and first loves. His iterative process of applying paint and wiping it away from the steel and copper substrate allows his imagery to develop like a photograph and the resulting subjects are muted and blurred like fond memories of times gone by. The works will be shown alongside three of Lewer's animations, including 2014 Blake Prize-winning work Worse Luck… I am still here.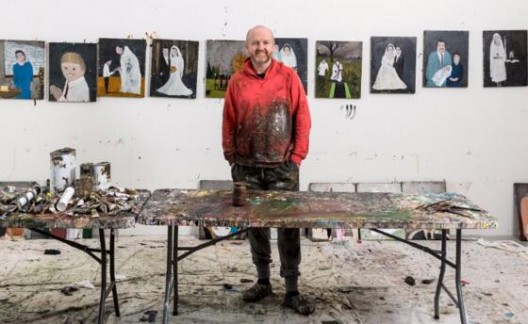 "I'm really excited about showing them together because the true stories told in the animations often use elements of the happy or idyllic memories as backstories to explore extreme events or behaviours as life is also brutal and extreme." – RICHARD LEWER
Lewer has exhibited extensively throughout Australia and internationally. His work is included in many important state museums and university collections in both Australia and New Zealand. Recent exhibitions include The National: New Australian Art, Carriageworks, Australia (2017); Sappers & Shrapnel: Contemporary Art and the Art of the Trenches, Art Gallery of South Australia (2016); the Basil Sellers Art Prize, Ian Potter Museum of Art, Melbourne (2014); Dark Heart, Adelaide Biennial of Australian Art, Art Gallery of South Australia (2014); and Melbourne Now, National Gallery of Victoria, Melbourne (2013).