Shanghai Center of Photography (SCôP) presents:
FIGURES of SPEECH —
A New Look at the Photograph as Portrait
[Press Release]
"Figures of Speech" refers to the subjects of the photographic works that the exhibition presents. Here, a photograph of the figure is not intended to describe his or her personal identity but to function in metaphoric fashion as a figure of speech: a figuration that speaks of something other than the personal character or specific identity that belongs to the persons portrayed.
The inspiration for "Figures of Speech" is both serious and playful. From the different eras of the 1960s through to the present, each body of work confronts us with elements that are familiar, be that a form of ideology or celebrity culture, spiritual meditation or reportage. The photographers presented are Fan Ho, Meng Minsheng, Yau Leung, Leung Chi Wo + Sara Wong and Stanley Fung. Each has a connection with Hong Kong, either being born there or spending a period of their life living and working in the territory, but the stronger connection lies in their work: the people in the portraits shown here are taken as mannequins variously dressed in a message. They are figures of speech in the hands of these extraordinarily creative photographers.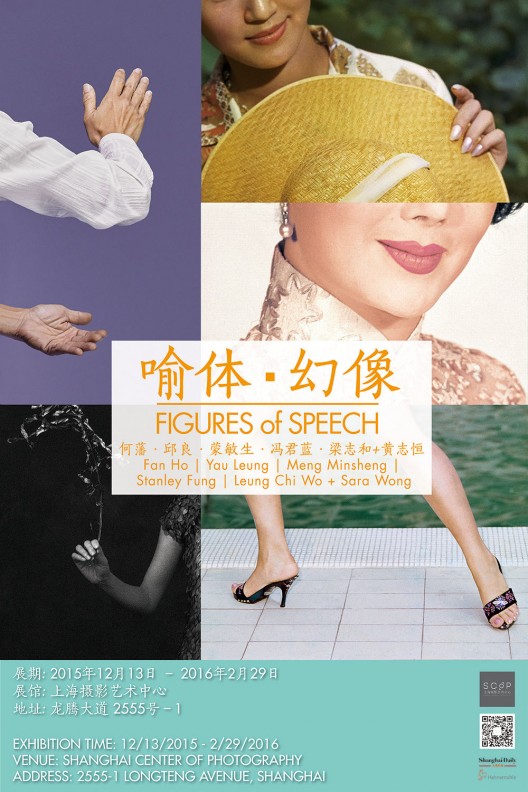 The exhibition begins with a rare group of three portraits from the early 1950s created by Fan Ho, arguably Hong Kong's most well-known and regarded photographer.
A decade later, the celebrity portraits taken by Yau Leung were taken in the first major boom years of the Hong Kong film industry. Conjuring a golden age of Hong Kong in the popular imagination, they are as trendy and voguish today as the moment in which they were created.
A contemporary of Yau Leung, Shanghai-born Meng Minsheng stayed close to his socialist roots during his career as a photographer in Hong Kong. Today, the photographs from his Imitated Revolution series have an almost postmodern air, suggesting a parody of the ideology he sought to promote, which were created to represent Meng Minsheng's deep patriotism and personal commitment to revolutionary spirit.
Coming into the new Millennium, He was lost yesterday and we found him today, created by the partnership of artists Leung Chi Wo + Sara Wong, brings anonymous figures from obscurity in a series of original, historical images and gives them center stage in a new photograph. Here, the figure's manner and gestures are infused with quite a different meaning in the context of today; cut out of time and space, without clear reference to event or cultural framework.
Also recent works, in the series titled Dust Icons, Taipei-based photographer Stanley Fung explores the spiritual essence of humanity. Suffused with an aura of timelessness and mystery, the photographs have a quietly arresting quality that appeals to all.
"Figures of Speech" extends the survey of Chinese photography that was undertaken in the recent SCoP exhibition "Grain to Pixel". The exhibition offers a distinctive approach to portrait photography, connecting time and space, different ideologies and forms of expression.
"Figures of Speech" is curated by Karen Smith.