The 8th Asia Pacific Triennial of Contemporary Art (APT8)
[Press Release]
Work by more than 80 artists in The 8th Asia Pacific Triennial of Contemporary Art (APT8) will reflect the vigour of expanding creative centres throughout the region.
With each iteration of the flagship Asia Pacific Triennial exhibition series, the Queensland Art Gallery | Gallery of Modern Art examines developments in the contemporary art of Australia, Asia and the Pacific. APT8 emphasises performance, with live actions, video, kinetic art, figurative painting and sculpture exploring how the human form can express cultural, social and political ideas.
Major new commissions include a sprawling structural installation of reclaimed timber by India's Asim Waqif and a mesmerising suspended sculpture by South Korea's Haegue Yang.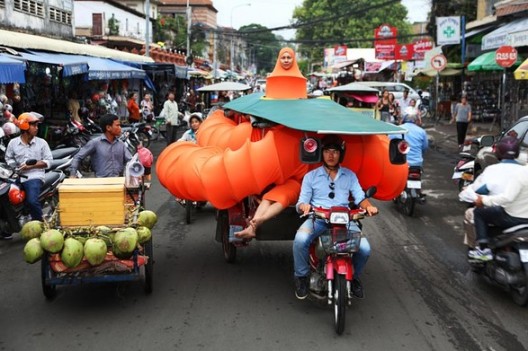 Special focus projects in APT8 include Kalpa Vriksha: Contemporary Indigenous and Vernacular Art of India—the first major display of its kind in Australia—and the Melanesian performance project Yumi Danis (We Dance), which emerged from a creative exchange in Ambrym, Vanuatu in 2014.
APT8 also encompasses the curated cinema programs Filipino Indie and Pop Islam, APT8 Kids activities for young visitors and families, an exhibition publication and a book for children.
The opening weekend, November 21 and 22, will be rich with talks, tours and performances with artists, curators and guest speakers examining individual works, overarching ideas and emergent themes in the exhibition. APT8 Live, an ongoing program of artist performances that explore the human form's capacity to express ideas, will continue throughout the duration of the exhibition.
Open now for registration, the APT8 Conference on Monday, November 23 invites artists, researchers and curators from Australia, Asia and the Pacific to address the key conceptual threads of APT8. Grounded in considerations of cultural and social context, discussions centre around strategies at work in recent artistic practice and their relationships to frameworks of exhibition and interpretation.
Exhibiting artists: Abdul Abdullah / Anida Yoeu Ali / Rheim Alkadhi / Brook Andrew / Baatarzorig Batjargal / Richard Bell / Bouillon Group / Chen Ching-Yuan / Sharon Chin / Choi Jeong Hwa / Kiri Dalena / Juan Davila / Desire Machine Collective / Lav Diaz / Duan Jianyu / Janenne Eaton / Lawrence English / Köken Ergun / Gunybi Ganambarr / Gerelkhuu Ganbold / Hit Man Gurung / Ramin Haerizadeh, Rokni Haerizadeh and Hesam Rahmanian / Taloi Havini and Stuart Miller / Haider Ali Jan / Gulnara Kasmalieva and Muratbek Djumaliev / Khvay Samnang / Shigeyuki (Yuki) Kihara / Paphonsak La-Or / Leang Seckon / Liu Ding / Len Lye / Julia Mage'au Gray / Gabriella Mangano and Silvana Mangano / David Medalla / Danie Mellor / Min Thein Sung / Morimura Yasumasa / Nakamura Yuta / Yukultji Napangati / Nge Lay / Uudam Tran Nguyen / Nomin Bold / Prabhakar Pachpute / Segar Passi / Hetain Patel / Po Po / Navin Rawanchaikul / Rosanna Raymond / Tsherin Sherpa / Shiga Lieko / Justin Shoulder and Bhenji Ra / siren eun young jung / STAB (School Of Theory and Activism, Bishkek) / Super Critical Mass / Melati Suryodarmo / Risham Syed / Maria Taniguchi / Christian Thompson / Luke Willis Thompson / Angela Tiatia / Francis Upritchard / Uuriintuya Dagvasambuu / Yelena Vorobyeva and Viktor Vorobyev / Asim Waqif / Ming Wong / Yamashiro Chikako / Haegue Yang / Zhou Tao
Kalpa Vriksha: Contemporary Indigenous and Vernacular Art of India
Developed with the assistance of Minhazz Majumdar
Gond: Venkat Raman Singh Shyam / Kaavad: Satyanarayan Suthar / Kalighat: Kalam Patua / Mithila: Pradyumna Kumar, Pushpa Kumari / Patachitra: Abdul Chitrakar, Jaba Chitrakar, Madhu Chitrakar, Mantu Chitrakar, Monimala Chitrakar, Sonia Chitrakar / Phad: Kalyan Joshi / Rajwar Sculpture: Atma Das Manikpuri, Bhagat Ram Rajawar, Daroga Ram, Parbatibai Sarthi, Rookmani Bai / Warli: Balu Ladkya Dumada, Rajesh Chaitya Vangad
Yumi Danis (We Dance)
Marcel Meltherorong, Co-Curator / Nicolas Molé
APT8 Cinema
Filipino Indie (Yason Banal, Co-Curator) / Pop Islam (Khaled Sabsabi, Co-Curator)
APT8 Kids
Artworks and interactives by Richard Bell / Lawrence English / Choi Jeong-Hwa / Nge Lay / Hetain Patel / Marcel Meltherorong / UuDam Tran Nguyen / Rosanna Raymond / Justin Shoulder and Bhenji Ra / Venkat Raman Singh Shyam / Angela Tiatia / Yelena Vorobyeva and Viktor Vorobyev