"THE KING AND I"
Shanghai Gallery of Art
[Press Release]
THE KING AND I
ALCANTARA AND 9 ARTISTS TAKE
AN ANCIENT ITALIAN PALACE TO SHANGHAI
Artists: Maurizio Anzeri, Arthur Arbesser, Paola Besana, Gentucca Bini, Matthew Herbert, Taisuke Koyama, Francesco Simeti, Adrian Wong & Shane Aspegren.
Curators: Davide Quadrio, Massimo Torrigiani
Duration: January 10 – February 9, 2017
Venue: Shanghai Gallery of Art, 3F, No.3 on the Bund
The King and I is a journey across space and time. It is about a far away Palace and its imaginary stories, transposed like a labirynth or a dream to Shanghai. Its common treads are mysteries and fairy tales, told by 9 contemporary artists who were inspired by, and used one material only, Alcantara®. A material, produced by Alcantara, the company, which has got thousand variations; its essential character a tactile one: a surface, a malleable covering, extremely resistant, ready to take any shape.
Following its previous experiments at the Aurora Museum in Shanghai, MAXXI museum in Rome, and at the Royal Palace in Milan, with The King and I the company Alcantara decidedly shifts its focal point and experiments to contemporary art.
This particular exhibition originates from the Royal Palace in Milan, Italy; a building which from the 14th to the 19th century was home to the governors of the city and to different dynasties of royals. Today it is the property of the Municipality of Milan and it is dedicated to art. It is in fact the city's most prestigious exhibition spaces; one of the most important in Italy. Invited to realize a project there, Alcantara commissioned Davide Quadrio and Massimo Torrigiani, two renown international curators based between Shanghai and Milan, to develop a concept for an exhibition. The result was a collaboration with 9 artists and a beautiful site-specific and Alcantara-specific show; an original interpretation of the building, of what happened, or did not happen, in the past in its vast, empty rooms.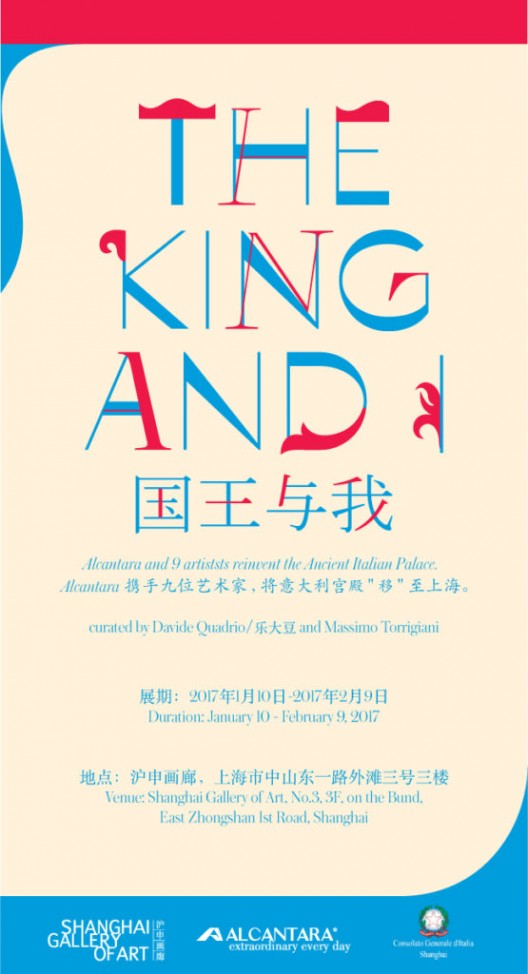 Open from September to October 2016 in Milan, that show, The King and I exhibition, arrives in Shanghai in a completely different form, with new works and a different meaning.
"When we started to work on The King and I exhbition with the artists in Milan" says Davide Quadrio, "we started to ask ourselves what would have happened if those site-specific works, these ancient rooms reinvented by the artists would have been transported in another place, installed and brought to life in another space, in another historical building, overlooking another historical city? That's how the idea of taking the exhibition to Shanghai came about".
The answer is now at the Shanghai Gallery of Art, one of the most prestigious and original art spaces of the city, with an important heritage in the promotion of contemporay art in China.
The King and I is scenic and theatrical. In its new form it transports the visitors to another dimension, in a far away world, which is at the same time alien and strangely familiar time, as fairy tales and old stories join all humans and cultures in an imaginary space that means everything to everybody.
As Italian writer Italo Calvino wrote in his introduction to Italian Folktales:
"Folktales are real (…) folk stories are the catalog of the potential destinies of men and women, especially for that stage in life when destiny is formed, i.e., youth, beginning with birth, which itself often foreshadows the future; then the departure from home, and, finally, through the trials of growing up, the attainment of maturity and the proof of one's humanity. This sketch, although summary, encompasses everything: the arbitrary division of humans, albeit in essence equal, into kings and poor people; the persecution of the innocent and their subsequent vindication, which are the terms inherent in every life; love unrecognized when first encountered and then no sooner experienced than lost; the common fate of subjection to spells, or having one's existence predetermined by complex and unknown forces. This complexity pervades one's entire existence and forces one to struggle to free oneself, to determine one's own fate; at the same time we can liberate ourselves only if we liberate other people, for this is a sine qua non of one's own liberation. There must be fidelity to a goal and purity of heart, values fundamental to salvation and triumph. There must also be beauty, a sign of grace that can be masked by the humble, ugly guise of a frog; and above all, there must be present the infinite possibilities of mutation, the unifying element in everything; men, beasts, plants, things".

About the Artists:
MAURIZIO ANZERI
Born in 1969 in Loano, Liguria, he obtained his MA from the Slade School of Fine Arts in London, where he has lived since the mid-Eighties. A sculptor, he often works with embroidery, found photos and flat surfaces. His work has been shown in many galleries and museums including the Photographer's Gallery, the Saatchi Gallery and the Victoria & Albert Museum in London; the Chapter Art Centre, Cardiff; the Baltic Centre for Contemporary Art, Newcastle; Pier 24, San Francisco; the National Museum of Oslo; the Bavarian State Opera, Munich; and C/O Berlin.
ARTHUR ARBESSER
He was born in 1982 in Vienna, where he grew up. He studied at Central Saint Martins in London before finding his direction in Milan where he worked with Giorgio Armani for seven years. In 2013 he won the Who Is On Next? competition and launched his own label, then in 2015 he was chosen as one of the eight finalists for the LVMH Award. Being strongly influenced by his Austrian background and by a very uncluttered approach to design, Arbesser's aesthetic is clean and distinctive. A lover of the arts and architecture, he experiments with unusual materials to reinvent the uses of clothes and accessories.
PAOLA BESANA
She has for over fifty years worked in and around textile art, or fibre art, touching on all its aspects. After studying in the early Sixties with Lily Blumenau in New York and Trude Guermonprez at the California College of Arts and Crafts, she worked with Jack Lenor Larsen in New York before returning to Italy. Here, she worked a lot in State schools and with the unions to teach arts and crafts teachers (weaving) and children of all ages. Having established a permanent base in Milan, in 1968 she opened the Studio di Tessitura Paola Besana: a workshop and a research, production and training centre. In 2015 the Studio became an Association; in addition to training activities for artists/artisans, the association also deals with the conservation of collections of textiles, objects and artworks, and it has a textile library with 1650 books.
GENTUCCA BINI
Born in 1973, she grew up amidst the atmosphere of art and fashion around her couturier grandmother, Bruna Bini. She studied architecture in Milan and in Paris, where she worked in Pierre Cardin's fashion house and as the assistant to fashion editor Andrée Leon Talley. She also met Karl Lagerfeld in Paris and worked with him on creating hats for his Chanel Haute Couture runway shows. Former creative dire ctor of the Romeo Gigli label, she now runs her own brand and her haute couture collections are shown on the Paris and Rome runways.
MATTHEW HERBERT
Born in 1972 in England, he is a highly respected electronic musician. Many of the sounds used in his compositions are made in the places and by common, everyday objects he records himself. In 2000 he wrote his manifesto "Personal Contract for the Composition of Music (Incorporating The Manifesto of Mistakes)", which he used as guideline for his later works. The manifesto forbids him to use electronic drums or pre-existing sounds and ensures that nothing created in the recording studio can be replicated live. In addition to house, electro e techno albums, Herbert has written scores for HBO and British television as well as music for theatre and dance productions. At the invitation of the London Sinfonietta, in 2010 he wrote One Day, a work in which a Saturday issue of The Guardian newspaper was put into music. He founded the museum of sound, an online public archive/platform, and since 2012 he is the creative director of the re-established BBC Radiophonic Workshop, a leading centre of sound and electronics research applied to music.
TAISUKE KOYAMA
Born in 1978 in Tokyo, he lives and works between Amsterdam and the city of his birth. After studying biology, in 2003 he began to focus on photography. He has held solo exhibitions in the Daiwa Foundation-Japan House Gallery, London; the Sunday Gallery, Zurich; the G/P gallery, Tokyo; the Metronom gallery, Modena; and the Kyoto Art Center. He has also participated in numerous international collective e xhibitions, including the Aichi Triennale 2016 and the Setouchi Triennale 2013. He won the 15th Japan Media Arts Festival Award, Tokyo, 2012. In 2014 the Japanese Agency for Cultural Affairs awarded him a study grant as part of the Japanese Government Overseas Study Program for Artists.
FRANCESCO SIMETI
Born in Palermo in 1968, he lives in New York. He has made a name for himself on the contemporary art scene thanks to his sculptures, installations and public art works made for major organisations, especially the Cooper Hewitt Nati onal Museum of Design and Columbia University, New York; the Galleria d'Arte Moderna, Bologna; MUDAC Musée de Design et d'Arts Appliqués Contemporains, Lausanne; and the 2012 Shanghai Biennale. Included in many public collections, his work has been shown at international venues such as the Vizcaya Museum and Gardens, Miami; Exit Art and Artists Space, New York; Rivoli Castle, Turin; Milan Triennale; MoCA, Massachusetts; and the Courtauld Institute, London. The wallpapers often featured in his works are inspired by the work's setting. It contrasts and blends icons from different eras to reinterpret and suggest worlds, re-using images and decorative motifs in a continuous invention which is familiar yet, looking closer, always new and strange.
ADRIAN WONG & SHANE ASPEGREN
Born in Chicago in 1980, Adrian Wong has since 2005 lived and worked in Hong Kong where he founded the Embassy Projects production agency. He graduated in experimental psychology from Stanford University and majored in sculpture at Yale University. His installations and sculptures explore the relationship wit h the environment through collective works. The Witte de With Center for Contemporary Art, Rotterdam, and the Saatchi Gallery, London, have held solo exhibitions of his work. His films have been shown at the Internationale Kurzfilmtage Oberhausen (German y), at the Bangkok Experimental Film Festival and at the Kunsthalle of V ienna. Included in numerous public and private collections, his work won the Sovereign Asian Art Prize in 2014. Shane Aspegren is a musician, producer and artist from Nebraska. He has worked with numerous artists on electronic, indie/pop and experimental music albums and tours. In 2001 he founded the duo The Berg Sans Nipple, which played gigs at international clubs and festivals and in such major institutions as the Whitney Museum, and collaborated with artists such as Bright Eyes, Arto Lindsay, Woodkid and many others. He has for over a decade also written scores for films, theatre, videos and installations in addition to his photographic, video and performance works which have been presented, amongst others, at Art Basel, MCA in Chicago, at the Anthology Film Archives, New York and at the Festival International du Cinéma Méditerranéen in Tétouan, Morocco. In 2012, he moved to Hong Kong, where he develops collaborative projects with other musicians and artists.
About the Curators
From 1998 to 2010 Davide Quadrio founded and directed the BizArt Center, the first non-profit artistic-creative workshop in Shanghai, where he has lived since 1994. In 2007 he established Arthub Asia, a platform for producing and promoting contemporary art of and in Asia. To this end, he organised numerous exhibitions, educational and cultural-exchange projects to stimulate relations among institutions all over the world. He was a consultant for the Bund18 creative space in Shanghai ( 2005-08) and curated the Chinese edition of the Victoria & Albert Museum's Vivienne Westwood exhibition and the Droog Design itinerant show (in Shanghai, Shenzhen and Beijing), as well as Olivo Barbieri's solo show for the 2006 Shanghai Biennale. He also coordinated the City Pavilions project for the 2012 Shanghai Biennale. His most recent projects include, among others, his curation, with Shaway Yeh, of the Zhang Enli and Christopher Doyle exhibition at the Aurora Museum, Shanghai; curation, with Chiara Bertola, of the Qiu Zhijie exhibition at the Fondazione Querini Stampalia during the 2013 Venice Biennale; the Yang Fudong retrospective, curated with Noah Cowan, for the 2013 Toronto Film Festival 2013; the Jompet solo exhibition at the Fondazione Gervasuti, Venice, for the 2011 Venice Biennale. Massimo Torrigiani is a member of the new curatorial board of Teatro dell'arte, the theatre of the Triennale of Milan, and chaired the curatorial board of Milan City Council's contemporary art museum from 2013 to 2016. He has been recently appointed by the Municipality of Bari, in the south of Italy, to curate the development of the city's nascent contemporary art centre. Since 2014 he is the creative director of Art In The City Shanghai, a festival on China's new creative scene. He is also the artistic director of Capo d'Arte, a cycle of exhibitions in Gagliano del Capo (Lecce), for which he has mounted shows with Yang Fudong, Soundwalk Collective and Shilpa Gupta. Since 2009 he has co-directed Fantom, a curatorial and publishing project centred on photography and sound. From 2010-12 he directed SH Contemporary, Shanghai's contemporary art fair. He lives in Milan, which is also the base of Boiler Corporation, the creative agency he co-founded in 2001 to publish the international art magazine Boiler.
Since 2010 Quadrio and Torrigiani have worked together on exhibitions, projects and publications. These include the Shanghai contemporary art fair, 2011 and 2012; the Yang Fudong retrospective for Capo d'Arte, 2014; the Art In The City Shanghai festival, 2014-16; the exhibition Jing Shen: The Act of Painting in Contemporary China at PAC, Milan; the collaboration on the curatorial board of the PAC, 2013-16.