WING SHYA
'Acting Out'
Shanghai Center of Photography
[Press Release]
Within the fields of film and style, Wing Shya is Hong Kong's best known photographer. He came to fame working with Hong Kong's leading art-house film-maker Wong Kar-Wai: Wing has worked on Wong's films, on and off set, since Living Together, filmed in Argentina in 1996. In the mid-1990s, he also produced a diverse range of graphic design, beginning with CD covers for the Hong Kong music industry in the mid-1990s and, later, signature images for Wong's films. This practice is seen in numerous photo-collages included in the exhibition. In addition to shooting fashion spreads, magazine covers, and advertising campaigns, in recent years, Wing has also produced music videos and co-produced and directed his own films – Hot Summer Days (2010) co-directed with Tony Chan, and Love in Space (2011). Wing's motto is "Never do easy," which accounts for the parallel lines of creative activity in his work.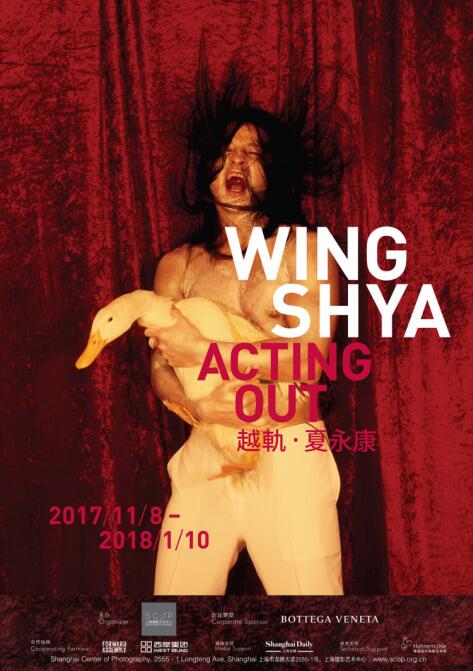 A diversity of form and medium aside, the photographic output that Wing has accumulated through his 25-year career has one unifying trait. That is mood. Atmosphere is everything about the way Wing creates images. Every element that makes it into a frame plays a part in shaping and projecting the mood, be that dark, intriguing, romantic, erotic, melancholy or tongue-in-cheek.
"Acting Out" brings together over 100 well-known and never-been-seen photographs from films, editorials, personal works and collages. It is the first major retrospective of a creative journey that is by no means over yet.
Wing Shya's first solo exhibition "Distraction/Attraction" took place at the Mori Art Museum, Tokyo in 2006. The was followed by "This is Real", a second solo show at Ion Art, Singapore in 2011. The most recent solo exhibition "Acting Out" will be presented at the Shanghai Center of Photography (SCoP) in the fall of 2017, curated by Karen Smith (Artistic Director of SCoP)