XU DAWEI
Rambling in the Dark
Leo Gallery, Hong Kong
[Press Release]
Leo Gallery Hong Kong is pleased to present Chinese artist Xu Dawei's solo exhibition "Rambling in the Dark", with an array of his most recent collage works.
In an attempt to extend and deepen his previous collage works, this time Xu creates a mysterious and surreal spectacle through juxtaposition of different natural elements. He encourages audience to witness his works from new perspectives so as to contemplate on what is beyond material reality. With layers over layers of metal sheets, the artist naturally constructs a physical existence in front of his audience as well as a spiritual realm hidden behind his works.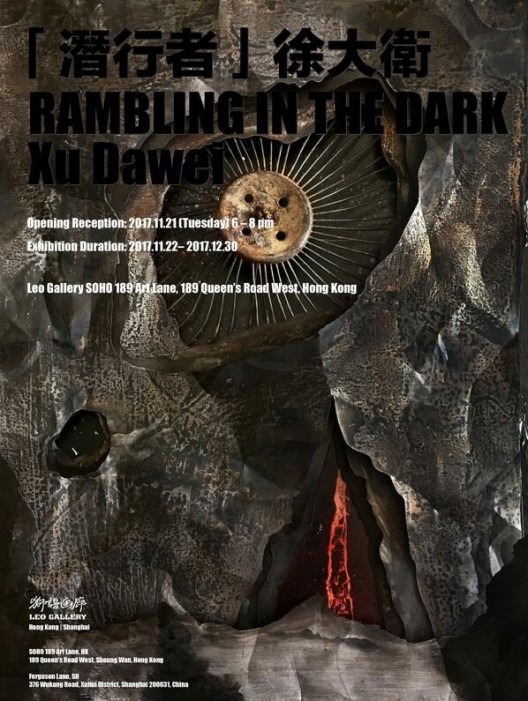 "I wish to deliver a sense of heaviness by creating a lonely and desolate world. The gloomy colours and metal textures can be traced back to the weightiness and tension I have tried to convey through my works. The things I draw-the rocks, withered branches, starry sky and red-hot lava-they all embrace a circular relation between damage and destruction, death and rebirth. This deep contradiction has built a scenery with the unknown mysterious and the beauty of destruction. Everyone is a humble loner rambling in the dark, in this mysterious and vast universe. "
- Xu Dawei
Through a total of 11 collage works, Xu explores the potential of space by painting on metal collage materials. He believes that art is a way for him to explain and extend the real world; in other words, it helps him escape from the limitations of reality. Gazing at Xu's works on the clean and spotless walls of Leo Gallery, audience will find himself becoming a passenger on a spaceship, wandering alone in the universe without end.