Yu Honglei: Swallow Century – Antenna Space
[Press Release]
In Swallow Century, the second solo presentation of Yu Honglei in Antenna Space, the artist transforms the gallery space into a public bath using serial relief panels of Chinese totems. The panels of cranes are in fluorescent hues of blue and green; their necks, in that peculiar twist, is a style reminiscent of ornately old-fashioned Chinese public arts. Each of the panel is coupled with a bath sprinkler spraying beaded curtains. Sculptural characters standing on "futuristic superstore pallets" surround the public bath ornaments. Those characters are sentient beings for Yu, as can be seen by the human-like figures (Stand, Noodle), the hybrid of clamshells and crane feet (Sisters Down the Hill), the fruit tree in late summer (A Long Hot Summer), the upright totem pole (Strolling Down to the Grassland) are but some examples.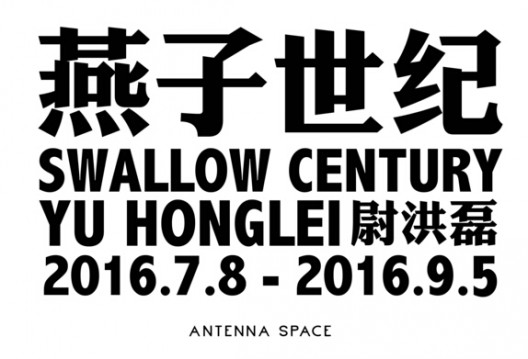 About Yu Honglei
Born in 1984 Inner Mongolia, Yu currently lives and works in Beijing.
His moving image and sculptural practice takes inspiration from a unique visual vernacular of online image database and visual cultures of Chinese cities. These sources are used by the artist and applied with the artist's sculptural touch. What he is interested in is the plasticity of thought forms and the sensible entities it corresponds to. Such plasticity allows Yu to execute the cognitive leap between the visual currencies as employed by his works and their titles, allowing for a hermeneutic and polysemic output, which informs his highly personal artistic discourse.
His recent and forthcoming solo exhibitions include: Swallow Century, Antenna Space, Shanghai, 2016; Sketch, Telescope, Beijing, 2015; Fat Mouse, Antenna Space, Shanghai, 2014; Everything Is Extremely Important: There Is Nothing That Will Not Come Back Again, Magician Space, Beijing, 2013. His recent and forthcoming group exhibitions include: Shifting Optics III, Upstream Gallery, Amsterdam, 2016; Des Hôtes: a Foreigner, a Human, an Unexpected Visitor, Spring Workshop, Hong Kong, 2015; 28 Chinese: Rubell Family Collection, San Antonio Museum of Art, Texas, 2015; The System of Objects, Minsheng Art Museum, Shanghai, 2015.