YUZ PROJECT ROOM SECUNDINO HERNÁNDEZ / ENTRE PRIMAVERA Y VERANO
[Press Release]
In September 2015 Yuz Museum will launch the first in a series of exhibitions for the Yuz Project Room. This ongoing project invites artists to make site-specific works or projects, engaging boldly with the museum, its surroundings and its audiences, exploring possibilities in contemporary art practice. Yuz Project Room is honoured to present its first international artist project Secundino Hernández / Entre Primavera y Verano, which will open to public from September 1st to October 11th.
Deeply influenced by the tradition of European paintings and the development of modern and contemporary art, Spanish artist Secundino Hernández creates works rooted in his wide knowledge of art history and painting experience. He skillfully combines expressionism and abstraction in his paintings, employing a strong and fluent use of line and colour. Hernández applies various techniques, including washing, scraping and working directly from paint tubes onto the canvas. His protean works display the triumphs and struggles of his artistic practice, while emphasising the tension between beauty and destruction.
In this project, Hernández chose to use the Yuz Museum's Glass Foyer with its vast dimensions and natural light, in which he is exhibiting a group of four monumental paintings measuring 5.5 × 3 metres each, entitled Four Seasons Between Spring and Summer. These works address the change of seasons, and encourage the audience to enter the artist's visual cosmos and engage with the depiction of time and space. Hernández's large works encourage engagement from different angles.
The exhibition also features more modestly-sized paintings. These works will be exhibited in Project Room 1F, and will provide a better understanding of Hernández's visual language and versatility. This is the artist's first exhibition in China and demonstrates his transformation and integration of different aesthetics from the West and the East.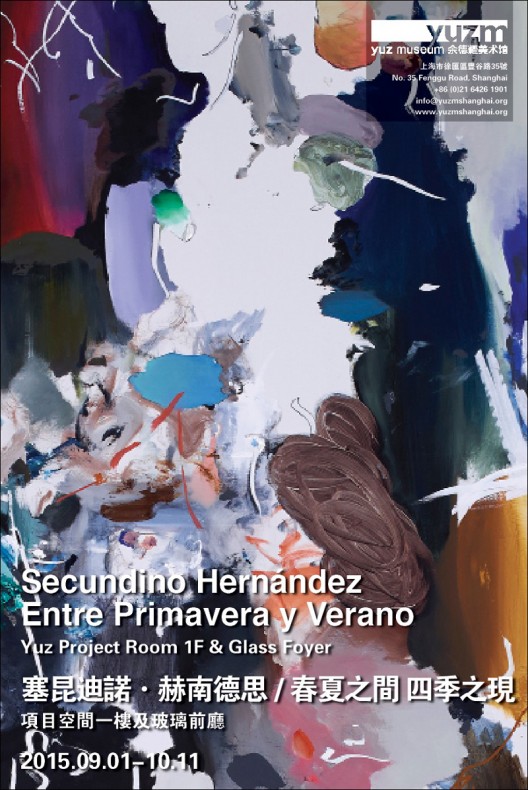 About the Artist
Secundino Hernández was born in 1975 in Madrid, Spain, and received a Bachelor of Fine Arts from Complutense University, Madrid in 2000. He currently lives and works in Madrid and Berlin. He has recently had solo exhibitions at Galeria Múrias Centeno, Lisbon, Portugal (2015); Maison Louis Carré, Bazoches-sur-Guyonne, France (2014); Victoria Miro, London, UK (2014); Galerie Krinzinger, Vienna, Austria (2007, 2010, 2014); Galerie Forsblom, Helsinki, Finland (2010, 2014); Galería Heinrich Ehrhardt, Madrid, Spain (2006, 2009, 2011, 2013, 2014, 2015) and Galerie Bärbel Grässlin, Frankfurt am Main, Germany (2013).
About Yuz Project Room
Yuz Project Room is a new independent exhibition program at the Yuz Museum which opens to the public in September 2015. Yuz Project Room invites artists to make site-specific works or projects, engaging boldly with the museum, its surroundings and its audience. Combining "project + exhibition," the artist interacts actively with the space and aims to present the moment when contemporary art occurs.
Yuz Project Room is the place where innovation, invention, and new movements happen in the trajectory of an artist. It aims to provide another platform for Chinese and international artists to exhibit their artworks as well as more opportunities to communicate with each other. Yuz Project Room invites the artist to get inspired with new ideas by engaging with the museum space and attempting to create breakthrough artworks that diverge from the artist's accustomed path.