Yves Netzhammer and Qiu Anxiong Fosun Foundation Shanghai
[Press Release]
Fosun Foundation Shanghai is proud to present Swiss artist Yves Netzhammer and Chinese artist Qiu Anxiong in two solo exhibitions occupying the center's second and third floor galleries. Both shows will run from August 13 to October 7, 2017. A dialogue between Western new media animation and Chinese ink-based film, the exhibitions explore the paradoxes facing modern society in both China and the West alike. They each consider the plight of humanity and modern civilization through experiential, immersive video works. This exhibition also breaks down the traditional boundaries of the exhibition space, with a rolling broadcast of short films by both artists displayed on Lujiazui's Citibank "Bund Star" LED screen. This link, bridging the Lujiazui architectural complex and the galleries of Fosun Foundation Shanghai, engenders a metaphorical collision between contemporary art and society, one that resonates throughout the entire city.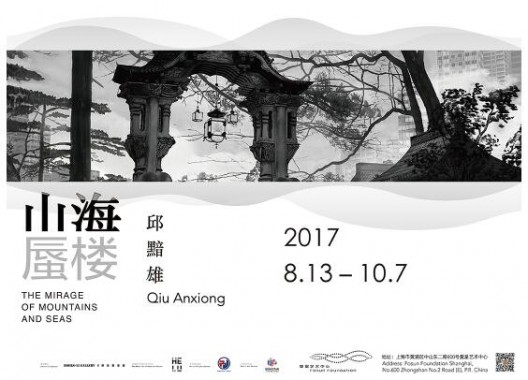 President of the Fosun Foundation Jenny Jinyuan Wang notes, "Our third exhibition since the inauguration of Fosun Foundation Shanghai, this presentation marks the first time we have placed a Chinese and Western artist together in dialogue in the same space. The two employ their respective artistic strategies to express how they understand, imagine, and consider urban space and modern life."
Yves Netzhammer: Refurnishing Toughts
Is it true that man plans, and God laughs? The works of Swiss artist Yves Netzhammer seem to tear rifts in time within active spaces. Through an organic synthesis of painting, steel installation, and animated short film, the artist integrates and re-configures these artistic elements to playfully subvert our understanding of time, space, and the world more generally: joy and pain coexist; life and
death cycle endlessly. A comprehensive presentation of Netzhammer's work across various media, this exhibition is an exhaustive expression of his tireless inquiries into space and medium as well as his sustained interest in time, environment, and society. The works on display here include seven short animations, over thirty steel installations, and more than ten wall paintings.
For the exhibition, Fosun Foundation Shanghai will transform its second floor into a "home" complete with living room, kitchen, and bedroom. Like the structure of the human brain, each section will have its own separate function. The viewer will be immersed in this manifold artistic space, composed of imaginative animated films, painterly works, simple black and white lines, and variegated blocks of color. These changes in scenery in turn structure different sensorial experiences.
Qiu Anxiong: The Mirage of Mountains and Seas
"That which the land bears, between the six directions… The spirits are born, varied in form, in heaven or in life: only the sages can penetrate their truth. Does it not describe the present by borrowing the fantastical language of the ancient, pre-Qin tomes? It does not!"
A work ten painstaking years in the making, Qiu Anxiong's ink film trilogy New Classic of Mountains and Seas I, New Classic of Mountains and Seas II, and New Classic of Mountains and Seas III will be shown together for the first time in this exhibition. New Classic of Mountains and Seas observes the modern world from a perspective outside of symbolic knowledge systems. Built on the narratives of classical Chinese myths, these works reveal a crisis of the modern world, expressing a skepticism toward and criticism of modern civilization. The artworks do not simply embody the "Chineseness" of traditional Chinese worldviews; rather, they manifest a global quality inherent to the development of contemporary culture.
The third floor of Fosun Foundation Shanghai will be divided into three separate sections. By following the course of the three films, viewers can begin to understand the artist's creative journey and the evolution of his thinking. Made in 2006, New Classic of Mountains and Seas I centers on conflicts related to energy, conveying the alienation of industrial society and the conflicts of geopolitics. Qiu completed New Classic of Mountains and Seas II in 2007. Discussing topics of
biotechnology and aeronautics, the work adopts both micro- and macrocosmic perspectives to describe how developments in science and technology engender societal crises. Debuting in 2016 after three years in the making, New Classic of Mountains and Seas III projects reality into the future. The film depicts contradictions between the virtual and the real and raises the paradox of human existence within an information society.
Each animation comprises hundreds of ink drawings. Qiu thereby gives new life to traditional Chinese ink painting and transforms it into his own unique artistic language. In contrast to his previous two films that have natural scenery as their backgrounds, New Classic of Mountains and Seas III transposes the setting onto an urban landscape that combines ink painting with three-dimensional depth, thus achieving a perfect balance between spatiality and poetic sensibility.
Acknowledgments
"Yves Netzhammer: Refurnishing Thought" is supported by Pro Helvetia Shanghai, Swiss Arts Council. The artist project sponsors are Project Woo, Kunstgiesserei St.Gallen Sculpture Production (Shanghai) Co. Ltd. and KRT. The hotel support is provided by Wanda Reign on the Bund. BUNDSTAR media is the exhibition's public art partner.
"Qiu Anxiong: The Mirage of Mountains and Seas" is supported by Boris-Li Gallery. Shanghai HELU Culture Communication Co. Ltd. is the new media art production partner. The artist project sponsor is Project Woo. BUNDSTAR media is the exhibition's public art partner.