ZHANG XUERUI
'Colours in a Breeze'
Leo Gallery, Hong Kong
[Press Release]
Leo Gallery Hong Kong is pleased to present "Colours in a Breeze", the solo exhibition of Chinese artist Zhang Xuerui, showcasing 13 of her recent oil paintings. Zhang graduated from China Central Academy of Fine Arts, and is currently stationed in Beijing pursuing art and creation.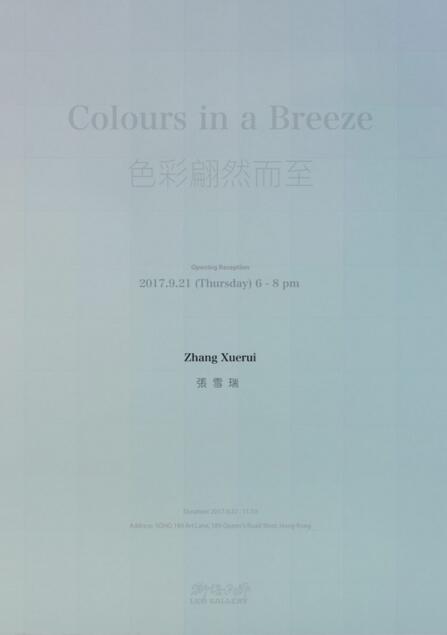 Be them soft as silk or dense as dusk, the rhythmic colours all flow under neat gridlines. Every art piece is an intimate conversation between the artist's inner world and the canvas; words become hues and shades which are weaved into squares of passion and affection.
Zhang is more attracted to the space containing physical existence than the existence itself. First there is space, then existence. She naturally believes that, to articulate space, she needs to go after the purest of colours. While in search of the reds and blues that may properly shed light on the intangible, she is also exploring the potential of colours. In her works, the subtle divisions between beautifully smooth and fine gradients give regular latitudes and longitudes like a chess board. The audience is moved by the dual impact of fusion and distinction, the marriage of logical planning and tender sentiments. To quote contemporary art researcher and critic Chiba Shigeo, "she doesn't stress on colours; there is no emphasis on red, blue or yellow of the primary trio, no reliance on existing colours. Instead, she sees 'colours' as 'emptiness', and with this attitude and from this perspective she delves into the unlimited possibilities of art." Throughout ceaseless exploration, tones and tinges flow, under a brush dipped in memories sweet and sour and senses fleeting or lasting, to the canvas as naturally as a soft breeze would gently stir the water. Mr. Chiba added that, the manner colours coming in a breeze is pivotal to what they mean to her.
Zhang's oeuvre includes a number of installation series inspired by childhood memories and relationship with close friends and relatives. Her installations were carefully crafted and infused with profound love, offering fresh insights and winning acclaims from audience worldwide. Apart from installations, the oil collection to be exhibited at Leo Gallery is among most significant creation of the artist. You are cordially invited to discover the profound emotions veiled under clean and light shades.