The Pioneers—Chinese Modernists in Paris
"Pioneers of Modern Chinese Painting in Paris"
de Sarthe Gallery (8/F Club Lusitano building, 16 Ice House Street, Central, Hong Kong) May 13-June 13, extended to 28 June 28.
Artists: Xu Beihong (1895-1953), Pan Yuliang (1895-1977), Lin Fengmian (1900-1991), Sanyu (1901-1966), Wu Dayu (1903-1988), Yun Gee (1906-1963), Wu Zuoren (1908-1997), Wu Guanzhong (1919-2010), Zao Wou-Ki (1920-2014), Xiong Bingming (1922-2002), T'ang Haywen (1927-1991).
Museum quality historical exhibitions at commercial galleries, equally impressive and surprising, are increasing but remain rare, particularly outside of major Western art centers such as New York and London. There were two fine recent examples in Hong Kong though, a city with largely nascent public institutions and confused civic aspirations (witness the frustratingly ambivalent public support for the new M+ museum). In this environment the role of galleries in presenting and documenting art history can take on special importance.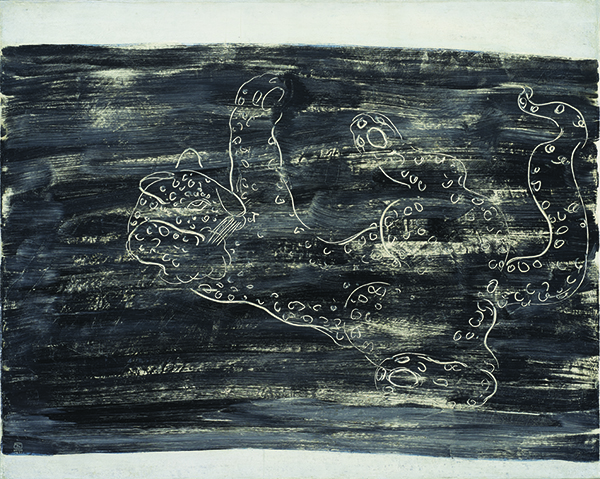 "Giacometti: Without End", a precisely and beautifully presented show of the artist's drawings and some sculptures at Gagosian Gallery, sadly did finally end. Gagosian pioneered gallery "museum" shows and remains the benchmark for them, often outperforming even leading public institutions (witness 2010's "PICASSO: The Mediterranean Years (1945-1962)", curated by John Richardson and Bernard Ruiz-Picasso, which outdid Tate Liverpools's own "Picasso: Peace and Freedom" exhibition). Still on show at de Sarthe Gallery are modernists of a different ilk—leading twentieth-century Chinese artists who spent crucial periods of their careers in Paris, that modernist crucible. The small but concentrated exhibition—only sixteen paintings and one sculpture—spans the Modernist arc from the early 1920s until the mid-1960s, almost in sync with one of the most turbulent periods of China's long history (a concurrent exhibition on the same theme is on display at Hong Kong Museum of Art, organized in conjunction with the Musée Cernuschi, Asian Arts Museum of Paris and the Musée National des Arts Asiatiques Guimet, "Paris • Chinese Painting: Legacy of the 20th Century Chinese Masters"—until September 21).
Relatively few Chinese artists had the opportunity to live in Paris in the early to mid-century period. War and revolutions led some like Sanyu into exile there, benefitting from their relatively cosmopolitan middle-class backgrounds, in this respect if no other. The works they had earlier produced in China often disappeared, victims of the general tumult, or were destroyed, sometimes by the artists themselves, as protest, to protect themselves from accusations of being reactionary or simply out of desperation, with nowhere to store them amidst the chaos. 17 works is a lot for one exhibition.
The strongest is a beguilingly simple painting by Sanyu of a leopard. Works such as his nudes and floral still-lifes owe a huge debt to Matisse but it is often in his depictions of animals, particularly cats and horses, that he affords himself the freedom of greater experimentation. "Leopard" is a landscape of broad monochrome dark-grey brushstrokes with a high horizon line. The cat has been drawn—scratched—into the surface with almost casual freedom. The leopard's shape is suggestively priapic and the transparent circles on the background lines suggest it can indeed change its spots. Is it alive? Perhaps it is just a ghost, its nine-lives exhausted, another victim on the road. It was painted in 1931. Extraordinary.
Some works like Xu Beijhong's "Self portrait" (1922), Wu Zuoren's "Nude Woman" (1932), Lin Fengmian's "Fish market" (c. 1960s) and even Wu Dayu's abstract "Untitled No.28" (c.1970s) are important examples of period painting but of less historical import. Yet the verso side of Xu's portrait, "Cavorting Lions" (1922), is as interesting for the abstracted background as its nominal subjects (lions in Xu Beihong's work may be seen as a symbol of China at the time, whereby Beihong's work represents the "waking up" of this lion). Background is also important in the only work by a woman. Pan Yuliang's "Nude" makes one think of the delicacy of Twombly's more atmospheric surfaces. It is also an incredibly luscious depiction of the woman, an Olympia reclining asleep on a leopard skin, a tea cloth draped over her crotch, the surface texture of background, human skin and leopard fur balanced with the strong ink figure outline.
Ink works such as Wu Guanzhong's "Gulang Islet" (1977) and "Spring Calling" (c. 1980s) incorporate Western modernist perspectives as additional tools employed with seemingly more traditional Chinese techniques of depiction. This approach was taken further in the highly abstract works of Zou Wou-Ki and Chu Teh-Chun and T'ang Haywen. The exhibition ends with its sole sculpture, Xiong Bingming's "Chinese Earth Buffalo" (1969). Cast in bronze, the buffalo's front legs have fallen beneath its body, the head raised in a final bellow of agony and protest before imminent execution. Animals have a rough time with Chinese modernists. Only the birds on Sanyu's power lines seem content to sit and watch.
An exhibition catalogue accompanies the exhibition with essay by Professor Dr. Zhu Qingsheng, Beijing University, and Wu Ning, Secretary-General, Wu Zuoren International Foundation of Fine Arts