C & G Artpartment will present"Decongestants for West-Kowloonization"
[press release]
Having curated more than ten art activities related to the West Kowloon Cultural District ever since its establishment in 2007, C&G Artpartment has also participated in many art events organized by other units at this cultural-site-to-be. In the past decade, the kind of "high art" we have witnessed, heard and experienced in this "West Kowloon" has much influence on Hong Kong's art development in many ways. On one hand, it has been shaping the aesthetic values of Hongkongers, especially the local government officials, in terms of evaluating artworks according to their market values for investment. On the other hand, the West Kowloon project has assured the preceding importance of hardware development over the software in policy making. The government has not devoted much more effort to help with the arts and cultural ecology in the area of Kowloon West, nor much more for the overall cultural scene in Hong Kong either. On the other hand of the other hand, while the West Kowloon project is the first white elephant developed after the handover, local cultural practitioners have not been able to critically speak up about it. Chest congestion often comes into place, when one starts to talk about this elephant. Treatment of such congestion has been successfully delayed for almost twenty years. Indeed, to delay important treatments and to consume, therefore, to eliminate, the energy of the civil society, has been the favorite tactic of the Hong Kong government for all its white elephant projects. Millions of problems have appeared ever since….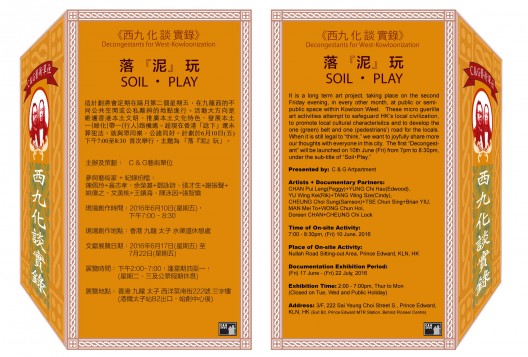 Let's start to talk about all these now, and let's begin with the Hong Kong under "West-Kowloonization."
"Decongestants for West-Kowloonization" is a long-term art project, driven by artistic practices. It will take place on the second Friday evening, in every other month, at public or semi-public space within Kowloon West. These micro guerilla art activities will attempt to safeguard Hong Kong's local civilization, to promote local cultural characteristics and to develop the one (green) belt and one (pedestrians') road for the locals. Participating artists are encouraged to make art in public area, while the public is welcome to appreciate art outside the designed zone of West-Kowloonization. Besides, interactive participation, collaboration and discussion are all encouraged. There will be a particular theme for each "Decongestant." The series of art activities each time will showcase the subtle but powerful energy in art making and will directly exhibit the artistic ideas to the visitors, in order to open up the scoop under West-Kowloonization.
Artists usually are quite used to be asked: "why are you thinking so much?" However, they may not be comfortable to hear, "Why don't you think?" Perhaps, I think therefore I am. Contemporary artists in Hong Kong nowadays probably know very well they are amongst this group of "thinking beings." When it is still legal to "think," we should take this opportunity to joyfully share more our thoughts with everyone in this city.
The first "Decongestant" will be launched on 10th June, 2016 (Fri) from 7pm to 8:30pm, under the theme about "Soil・Play." Invited artists will respond to this theme, through their on-site art pieces. Audience is welcome to visit, to observe, to make his/her own works in response, to share, to discuss etc. We will have photography and video documentation during the happening event, for a documentation exhibition afterward, in order to allow more audience members to have a better overview of all the art activities.
Documentation exhibition will take place from 17th June to 22nd July, 2016. All the activities will be free of charge for public. For enquiries, please contact 23909332.
Presented by: C & G Artpartment
Artists + Documentary Partners:
CHAN Pui Leng(Peggy)+YUNG Chi Hau(Edwood)、 YU Wing Kei(Rik)+TANG Wing Sze(Cindy)、CHEUNG Choi Sung(Samson)+TSE Chun Sing + Brian YIU、 MAN Mei To+WONG Chun Hoi、Doreen CHAN+CHEUNG Chi Lock
Time of On-site Activity: 7:00 -8:30pm,(Fri) 10 June, 2016
Place of On-site Activity: Nullah Road Sitting-out Area, Prince Edward, KLN, Hong Kong
Documentation Exhibition Period: (Fri) 17 June to (Fri) 22 July, 2016
Exhibition Time: 2:00 – 7:00pm, Thursday to Monday, (Closed on Tue, Wed and Public Holiday)
Exhibition Address: C & G Artpartment, 3/F, 222 Sai Yeung Choi Street South, Prince Edward, Kowloon, Hong Kong
(Exit B2, Prince Edward MTR Station, Behind Pioneer Centre)