Baptist Coelho wins Sovereign Art Prize
[Press Release]
The Sovereign Art Foundation is delighted to announce that artist Baptist Coelho, of India, has won the 12th annual Sovereign Asian Art Prize. The prize is Asia5s longest established and most prestigious prize in the arts and the winner receives not only the respected title but also a trophy and US$30,000. Alfredo and Isabel Aquilizan, of the Philippines, won the Public Vote Prize and US$1,000 for their piece Left Wing.
Attempts to Contain, 2015 by Baptist Coelho (Grand Prize Winner 2016)
Baptist impressed the panel of judges with his artwork Attempts to contain, 2015 – a piece consisting of 8 photographs on archival paper that explore how the body responds to the physical and psychological need to protect itself by forming a mesh of interlocking body parts.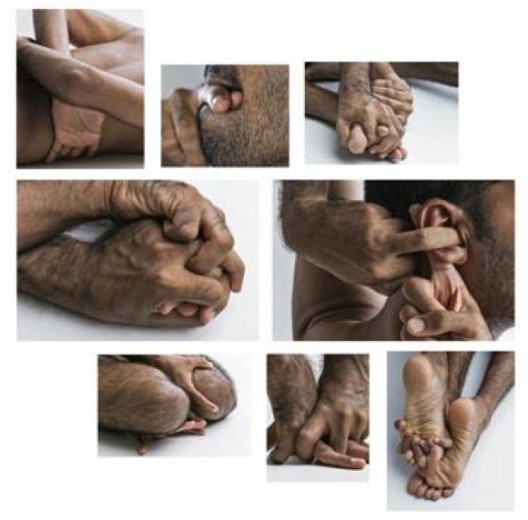 The inspiration for the artwork traces back to 1984, where the conflict between India and Pakistan over ownership of the Siachen Glacier was fought at an altitude of around 18,000 feet -the highest battlefield on earth. Bitter cold temperatures reaching to – 60 Celsius made living conditions unbearable for soldiers. In this work, the artist illustrates the trajectory of various attempts at weaving and intertwining the human body in order to provide its own layer of protection. This interaction between the warp and weft of mind and body implies a deeper psychological understanding; where the soldier seeks his own personal resolve; often unconsciously weaving a mesh that would psychologically hold, protect and contain.
Baptist was nominated into the Prize by longstanding Sovereign Asian Art Prize nominator Brain Curtain – an Irish-born lecturer, art critic and curator of contemporary art. Brian's work has been published in Frieze, Flash Art, Artforum.com, Art Asia Pacific and Art Review Asia] and he has mounted curated exhibitions in China, New York, Korea and the UK as well as regionally. As well as acting as a SAAP nominator he has nominated for the Prix Pictet award in photography, and the Google Photography Prize in collaboration with Saatchi Gallery London.
To ascertain the Top 30 Finalists of this year's prize, fifty independent art professionals from around the Asia Pacific region first had to nominate 200+ mid-career artists. Then, a judging panel comprising world-class art professionals including curator David Elliot, Chinese artist Song Dong, independent Indonesian curator Asmudjo Irianto, Hong Kong-based Alexandra Seno and Taiwanese artist Michael Lin, voted to shortlist 30 artists from across 16 different territories. Each member of the judging panel then flew to Hong Kong to view the art a second time, in person, before deciding on an overall winner.
It was the second time in the history of the Prize that sculpture was accepted as a medium entry 一 and this year's selection of finalists' works featured a total of 11 3D pieces.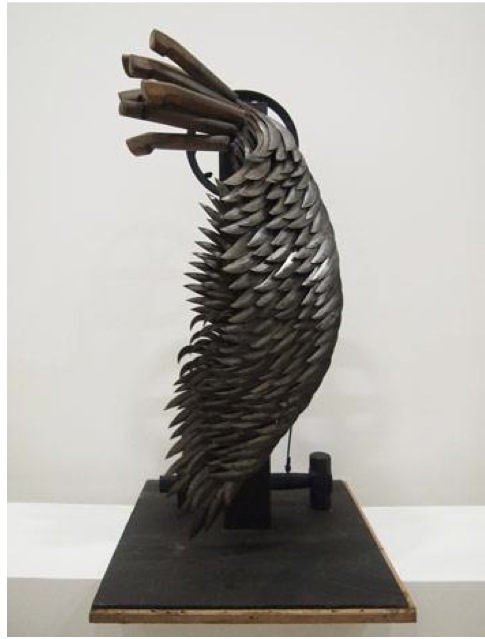 Left Wing by Alfredo & Isabel Aquilizan (Public Vote Prize Winner 2016)
Born in India in 1977, artist Baptist Coelho frequently merges personal research with collaborations from various cultures, geographies and histories. His work takes the form of human-shaped media-landscapes which often contend with history, the environment, conflict, emotion and randomness. As part of his practice, Coelho incorporates installation, video, sound, photography, found objects, site-specific works and public-art projects. He lives & works in Mumbai, though is currently undertaking an artist-in-residency program as the Leverhulme Artist- in-Residence at the Department of War Studies, King's College, London.
Mr Coelho was overjoyed to receive the award, and said,
"When I woke up the other morning and, with half-closed eyes, read the email informing me that I had won the main 2016 Sovereign Asian Art Prize award, I had to ask myself 'is this a dream?'…only to realise it is for real! This recognition comes at a very poignant stage of my art practise and I am very grateful to the Sovereign Art Foundation for their support and to all who have been part of my journey. It was a pleasure to be part of the competition and to be a finalist amongst a group of such diverse and talented artists."
Howard Bilton, Chairman and Founder of The Sovereign Art Foundation, said of the shortlisted artworks,
"Once again our world renowned judges have been pleased and excited about the quality of the finalists. The message they are giving us is that every piece in the final 30 is museum quality and that every year the standard gets better. This is,of course,very pleasing and reflects the hard work that the team have put into the prize over the last 13 years. This does tend to mean that the work is more "difficult" for our collectors and buyers but we are pleased to note that they too seem excited by the selection. We hope and trust that this will translate itself into sales of this investment quality art in support of the work of the Foundation in the community with disadvantaged children."
All finalists' artworks,excluding Baptist's winning piece, will be auctioned off on June 3 at the 2016 Sovereign Asian Art Prize Gala Dinner and Art Auction at the Four Seasons Hong Kong, with the proceeds to be split 50/50 between the deserving artists and The Sovereign Art Foundation's many charitable projects across the region.
The Foundation currently supports programmes in Cambodia, Vietnam, Mongolia, Nepal, Sri Lanka and since 2013 has run its own Make It Better project in Hong Kong, working specifically with children living in Hong Kong5s most disadvantaged parts.
About Baptist Coelho
In 2006, Baptist received his Masters of Arts from the Birmingham Institute of Art & Design (BIAD), UK. He was awarded the 'Façade Video Award' (2011) by Art Today Association, Plovdiv-Bulgaria; 'Promising Artist Award' (2007) by Art India & India Habitat Centre, Delhi-India and 'Johnson Prize Fund' (2006) by BIAD, UK. Solo Exhibitions include, Project 88, Mumbai-India (2015); Ladakh Arts and Media Organization in Leh- India (2015); Pump House Gallery, London-UK (2012); Grand Palais, Bern-Switzerland (2009); Project 88, Mumbai-India (2009); Visual Arts Gallery, Delhi-India (2009) and BIAD, UK (2006). Baptist's works have been exhibited at institutions including, Museo de la Ciudad, Cuernavaca-Mexico (2013); Heritage Transport Museum, Gurgaon-India (2013); CASS Sculpture Foundation, Goodwood-UK (2012); Ullens Center for Contemporary Art, Beijing-China (2012); Zacheta National Art Gallery, Poland- Warsaw (2011); Essl Museum, Klosterneuburg-Austria (2010); Gwangju Museum of Art, South Korea (2010) and Devi Art Foundation, Gurgaon-India (2008). His videos have been screened at institutions, including Jönköpings Läns Museum, Sweden (2013); The Film Society of Lincoln Center, New York-USA (2013); Museo nazionale delle arti del XXI secolo (MAXXI), Rome-Italy (2011); Swiss Architecture Museum, Basel- Switzerland (2011); Musée d'art contemporain de Lyon (MAC), France (2011); Reykjavik Art Museum, Iceland (2010); HEART – Herning Museum of Contemporary Art, Denmark (2010); Museu Valencià de la Il•lustració i de la Modernitat (MuVIM), Spain (2009); National Art Gallery, Islamabad-Pakistan (2008), amongst others. Coelho was Artist-in-Residence at Centre International d'Accueil et d'Echanges des Récollets, Paris-France (2012); Delfina Foundation, London-UK (2011); Art Today Association, Plovdiv- Bulgaria (2012); PROGR, Bern-Switzerland (2009), amongst others. The artist has also conducted various community workshops, artist talks, panel discussions across Asia, Europe and South Africa.