MOMENTUM and Videotage
for Art Basel Hong Kong
[press release]
Acentered: Reterritorised Network of European and Chinese Moving Image
SELECTED WORKS FROM THE MOMENTUM COLLECTION
Art Basel Hong Kong , Crowdfunding Lab (Level 3 Concourse, Hong Kong Convention and Exhibition Centre)
Thursday, March 24, 13:00 – 21:00
Friday, March 25, 13:00 – 20:00
Saturday, March 26, 11:00 – 18:00
MOMENTUM will take part in Acentered: Reterritorised Network of European and Chinese Moving Image during Art Basel's upcoming show in Hong Kong. Presented by the Art Basel Crowdfunding Initiative, Acentered is part of the Crowdfunding Lab and curated by Videotage.
Featuring Qiu Anxiong / Thomas Eller / Janet Laurence / Kate McMillan / Tracey Moffatt / Sumugan Sivanesan / Li Zhenhua
(Click on artists' names for more info)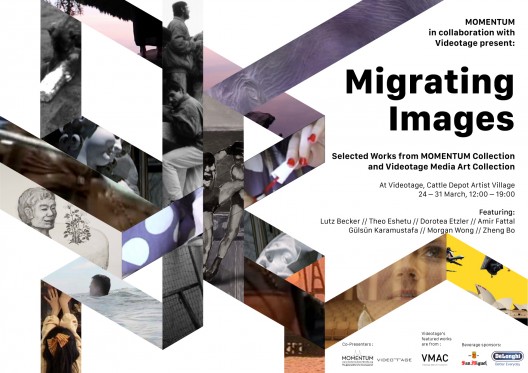 The 21st century defines an emerging set of complex relationships between creativity, knowledge, capitalism, and innovative technologies. Today, we live in a world that revolves around networks and necessitates a belief in a future that is powered by the connection of people – a culture that embraces fluidity, collaboration, and creative mobility.
During Art Basel's show in Hong Kong, the Crowdfunding Lab will feature video art works from the Videotage Media Art Collection, and also works from international art organizations, which include Casa Asia (Barcelona & Madrid), Centre for Chinese Contemporary Art/University of Salford Art Collection (Manchester), The Chinese University of Hong Kong/Department of Fine Arts, City University of Hong Kong/School of Creative Media, Connecting Spaces (Hong Kong-Zurich)/Zurich University of the Arts, Hong Kong Baptist University/Academy of Visual Arts, The Hong Kong Institute of Education/Department of Cultural and Creative Arts, MOMENTUM (Berlin), and videoclub (London). Videotage will also organize a series of roundtable discussions at the booth on a variety of relevant topics in the art world today.
Exhibition:
Migrating Images
@ Videotage, Unit 13, Cattle Depot Artist Village, 63 Ma Tau Kok Road, To Kwa Wan, Hong Kong
24th – 31st March 2016, 12:00 – 19:00
Featuring:
Lutz Becker // Theo Eshetu
Amir Fattal // Gülsün Karamustafa
Morgan Wong // Zheng Bo
Dorotea Etzler
Curatorial Statement
Today, most of us live lives of perpetual motion from one piece of information to the next, from one opportunity to the next, and from one place to the next. Mobility – both geographical and social – not so long ago the privilege of the few, is now taken for granted as the entitlement of the majority. Historically having expelled millions, Berlin is still making up for it, reinventing itself as the go-to capital of the mobility age. At the geographical center of Europe, Berlin acts as a vortex, sucking in the cool young things of art, fashion, media, music; professionals and tourists, migrant laborers and refugees. Berlin is a city of migrants where everyone is always from elsewhere. It is a city of mobile people and moving images.
Migrating Images addresses issues of memory, identity and the impact of migration. Throughout the exhibition 'migrating images' are revealed through the notion of 'object memories' as artists examine how objects, and associations related to them, have been transferred and re-imprinted through historical processes of colonization and migration, moving in this way from one culture to another. The work made by the artists in the exhibition shows different ways in which these 'migrating images' have been woven into new lives or realities to establish other meanings and identities in the present. Migrating Images is thus a reflection on the hybridization of cultural practices, and the fact that not only in Berlin, but everywhere in the world, we can all find roots somewhere else; and we all need dreams, stories, legacies and nightmares from somewhere else.
Migrating Images brings together artists who have dissected the historical legacies of their particular cultures to rebuild them into contemporary statements about how cultures, by absorbing one another, defy established borders and concepts of nationhood that have been drawn and re- drawn by political force throughout history. This exhibition focuses on historical time through the lens of technologies that break down moments into images, as well as through the personal experiences of artists whose varied cultural backgrounds also re-frame different historical moments.
The work by the artists in the exhibition – Lutz Becker, Theo Eshetu, Amir Fattal, and Gülsün Karamustafa – encapsulates a wide range of different approaches to experiences of empire, migration, cultural transformation and appropriation. All strongly reflect the viral, diasporic symbolisms of contemporary culture across the world and the different contexts within which they are perceived.
The works selected from Videotage Media Art Collection (VMAC), including Dorotea Etzler's Film 2 HK 1995 (1997) and Morgan Wong's Plus-Minus-Zero (2010), they explore the relationship with our surrounding world in the contemporary urban landscape, and how our sense of time and space can be dislocated by artistic interruptions through performance, videography and cinematic language. While Zheng Bo's Welcome to Hong Kong (2004) still resonates with Hong Kong people's anxiety and unease in face of the changing social environment and urban landscape a decade later. The three artists from this VMAC's selection come from different cultural and artistic background, but they all share a common interest in creating new collective and dynamic urban experiences through experimental videography.
Artists and Works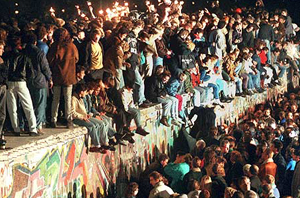 Lutz Becker, After The Wall, 2000
CV – Website
Lutz Becker was born in 1941 in Berlin, Germany and now lives and works in London, UK. Lutz Becker is an artist, filmmaker, curator and film-historian. He studied at the Slade School of Fine Art, London, and became a distinguished director of political and art documentaries. A practicing painter, he is also a curator of exhibitions. He collaborated with the Hayward Gallery on The Romantic Spirit in German Art (1994), Art and Power (1995), and Tate Modern on Century City (2001).
Lutz Becker's sound piece After the Wall (1999/2014) was originally produced for an exhibition of the same title, coinciding with the 10th anniversary of the fall of the Berlin Wall. Becker, Berlin-born but living for over forty years in London, recorded five different soundscapes of tapping and hammering as the wall was slowly demolished across Berlin. In the process it was transformed from a monumental symbol of oppression into a commodity to be sold in small plastic packs and a destination for tourism. Both the heroism of hope and the banality of commerce can be heard in this beating against the wall as solidarity syncopates into nothingness and the sound of freedom resounds in a void.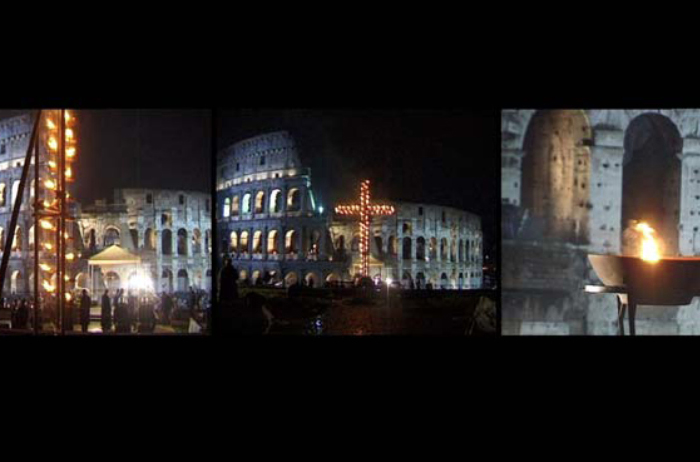 Theo Eshetu, ROMA, 2010
CV – Website
Theo Eshetu was born in London 1958, and grew up in Addis Ababa, Dakar, Belgrade and Rome. He now lives and works in Berlin. Coming from a background in experimental film and music, Eshetu forges a hybrid language to merge practices of video art and documentary filmmaking, exploring perception, identity, and notions of the sacred through electronic time-based media and optical devices and effects. Eshetu has won numerous awards and has shown worldwide. He is currently developing new work for Documenta14 in 2017.
In ROMA (2010), a three-channel video projection of almost an hour long, Theo Eshetu presents a kaleidoscopic view of the former Roman imperial capital that displays its grandiosity, street life, ritual, theatricality, modernity and sleaziness. Partly in homage to Federico Fellini, the film cuts restlessly between the intimate and the monumental, silence and noise, the banal and the baroque, as different fragments of being imply the paradox of an almost inhumanly overwhelming force. The sensuality of the body is a recurring motif: its sexuality, movement, and discrepancies with the idealised form of ancient Roman power. An epigraph quoting Carl Gustav Jung's fear of visiting the city strikes a note of neurotic unpredictability. But this is overlaid by a vision of the city as Wunderkammer, an impression mirrored in the eyes of its visitors (or the viewers of this film), as they are induced to marvel, and at times smile, at the absurdity of the range and grandeur of its image.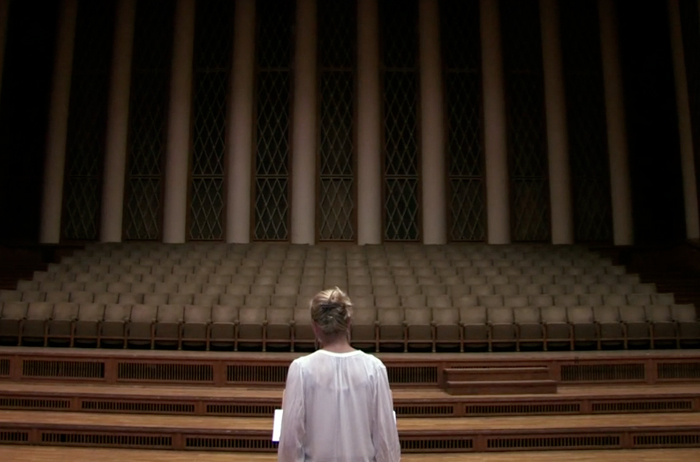 Amir Fattal, From the End to the Beginning, 2014
CV – Website
Amir Fattal was born in Israel in 1978, and is currently based in Berlin. Fattal graduated from Universität der Künste, Berlin, in 2009, and is a conceptual artist whose practice is one of historical reflection grounded in the history of aesthetics and cultural schisms. Working in a variety of media ranging from sculpture, installation, photography, video, 3D printing, musical composition, and more, Fattal makes contemporary art which is always subtly political, reflecting conceptually upon the history of art, architecture, minimalism, and modernism.
Israeli artist Amir Fattal's single-channel video From the End to the Beginning (2014) is based on a live performance of Richard Wagner's Vorspiel und Liebestod from Tristan und Isolde (premiered in 1865). The notes, however, are played in reverse order, disrupting the drama while retaining the music's lush chromaticism. Through this strategy the artist creates another kind of sense, reversing time, perhaps to start anew by bringing the dead back to life. The piece extends into a consideration of the relationship between the national histories of Germany and Israel, the latter in a sense growing out of the Holocaust. Wagner's music is still never played there. Fattal implies, as do other artists shown here, that modernity has its own conflicted histories in which conformity has often been enforced under the pretext of freedom.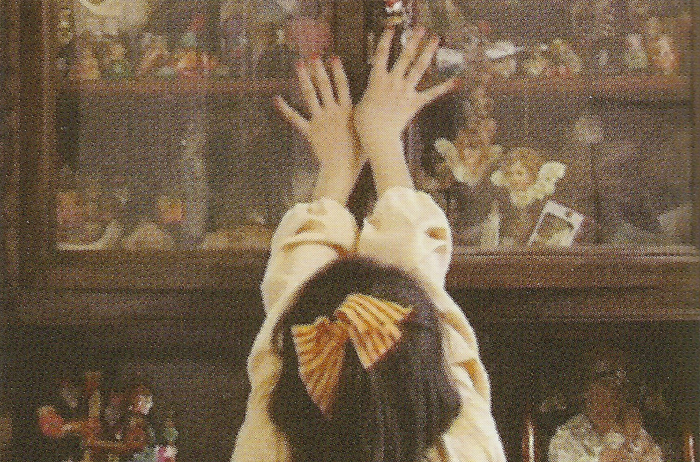 Gülsün Karamustafa, Personal Time Quartet, 2000
CV – Website
Gülsün Karamustafa was born in 1946 in Ankara, Turkey. She lives and works in Istanbul, where she is recognized as one of the most important and pioneering Turkish contemporary artists. Her work addresses questions of migration, displacement and military dictatorship (during the 1970s she was imprisoned by the Turkish military). She was refused a passport for sixteen years until the mid-80s and, unlike other Turkish artists, could not emigrate or travel. This enforced isolation led her to an analysis of her own situation and context: the city of Istanbul, interior migration and nomadism within Turkey, and the ideological and psychological ramifications of identity.
Gülsün Karamustafa's work presents migrating images by juxtaposing objects or documented facts with personal, intimate, emotional reactions that may or may not be consonant with them. Personal Time Quartet (2000), a four-channel video installation, re-enacts the artist's childhood through the eyes of a young girl as she discovers the glassware and elegantly embroidered table linen and bed sheets that once belonged to the artist's grandparents, or skips crazily amongst the ancient furniture in the family dining room, folds laundry in the kitchen, or, like her alter ego – the artist – once did, paints her nails, obviously for the first time. Through this surrogate family history of memory, furniture and objects stretching back over a century, the artist also refers to times of displacement, migration and unhappiness that have followed her family from the time of the Ottoman Empire to the present.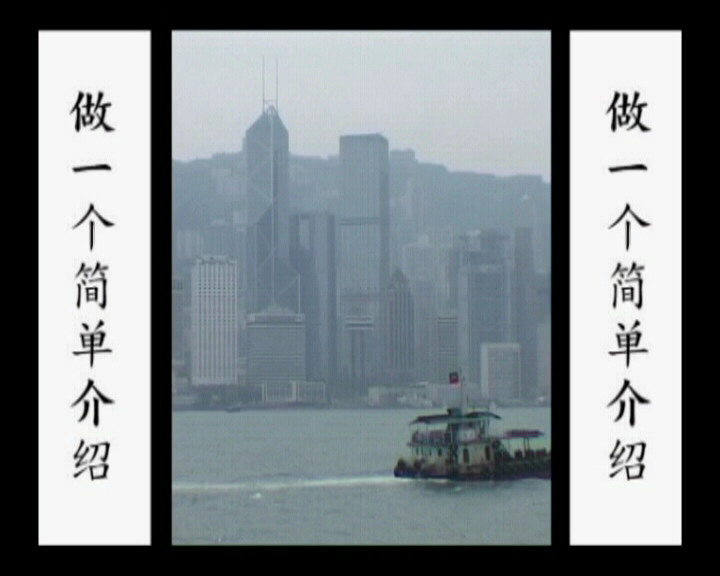 Zheng Bo, Welcome to Hong Kong, 2014
Website
Zheng Bo grew up in Beijing, China, and studied Fine Arts and Computer Science in the US. His works situate between video art and documentary, and are usually infused with strong social and political messages. Welcome to Hong Kong is a tour guide introduces major sites on Hong Kong island to travelers from Mainland China. She is not an ordinary tour guide – she speaks with two voices, offering different and sometimes conflicting "facts".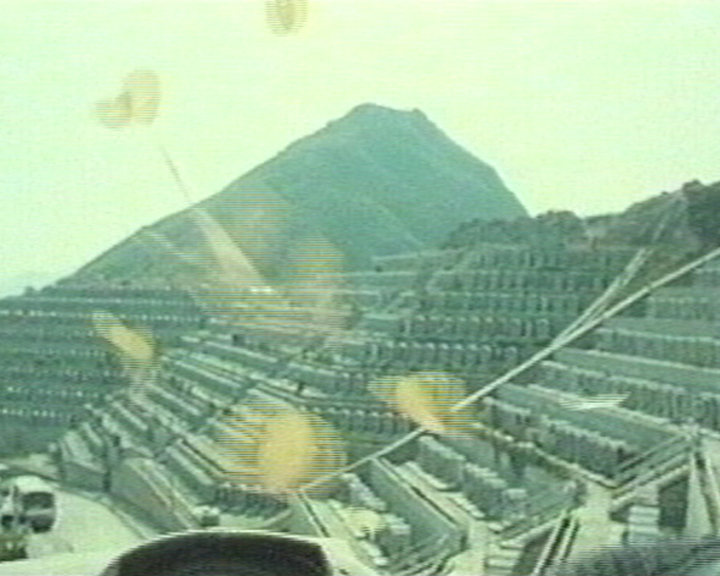 Dorotea Etzler, Film 2 HK 1995, 1997
Website
Dorotea Etzler studied architecture and practiced as an architect in Berlin and London. She participated in several international festivals and numerous exhibitions, including 25 hrs at the VideoArtFoundation in Barcelona and the MOOV Festival in New York. Film 2 HK is part of Etzler's series Nature Cut, which investigates the architectural space in feature films. The architectural space of the original film has been carefully (de)constructed to serve the story and the tension. This deconstruction allows a shift in meaning and provides a strong portrait of the given places.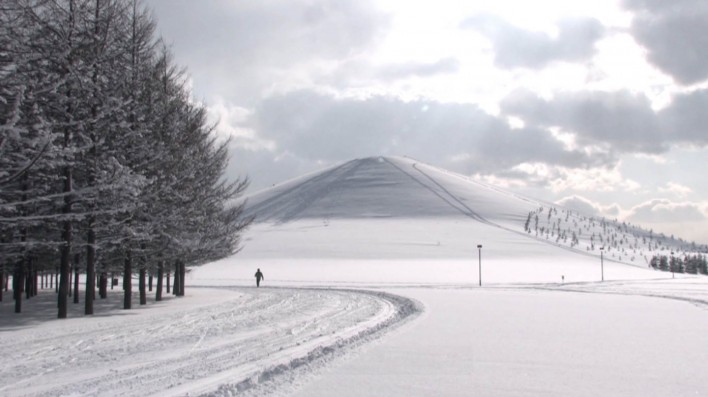 Morgan Wong, Plus-Minus-Zero, 2010
Website
In Plus-Minus-Zero, Morgan Wong's exploration is a time performance reminiscent of Back To The Future scientific logics. As video is frequently categorized as time based media, this work connects time, distance, technology and travel. Whilst this work is related to a fax work that was commissioned for the exhibition FAX, and shown at Para/Site Art Space, it is also a perfectly autonomous work through the discourse it holds.
Migrating Images:
Strangers In A Strange Place
An Artist Exchange Program to
Document the Migrating Cities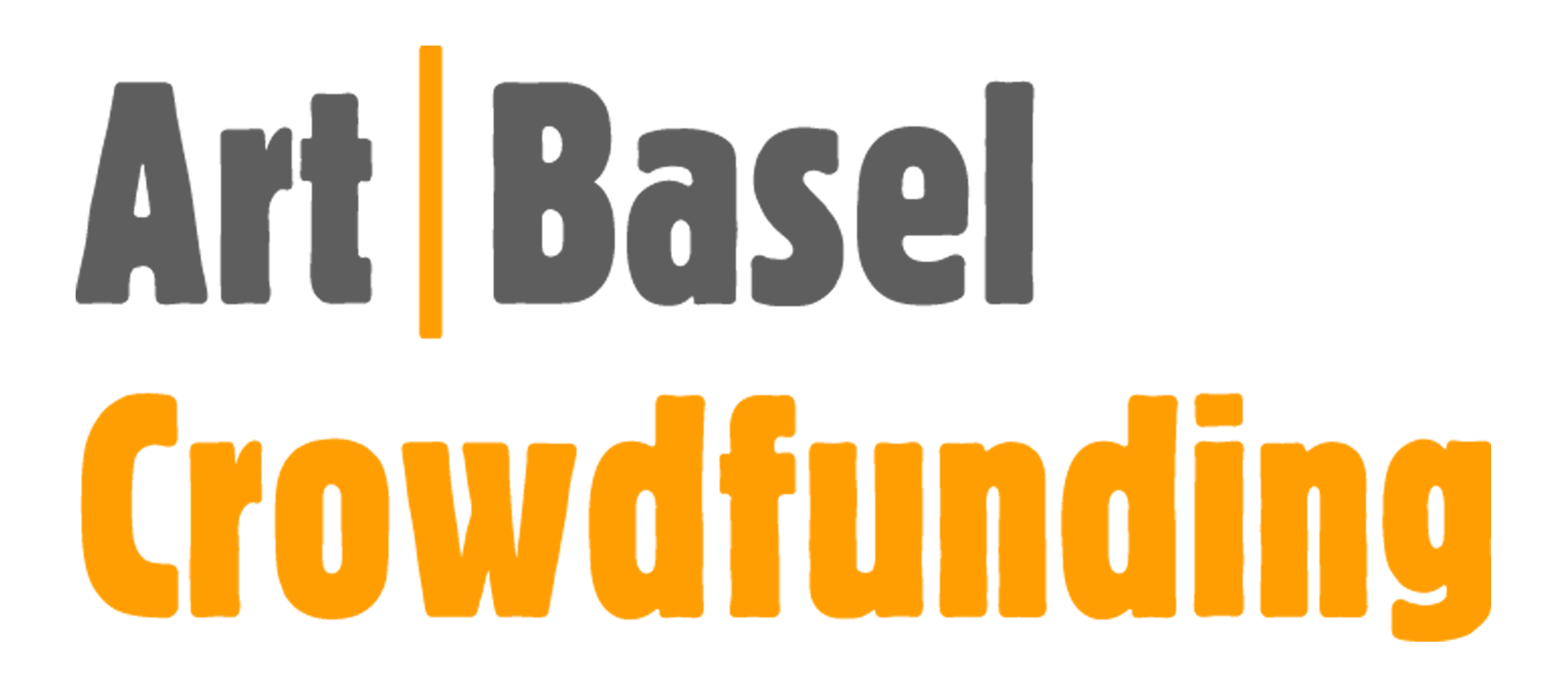 SUPPORT THE KICKSTARTER CAMPAIGN >>
"…trying to start a life in a strange land is an artistic feat of the highest order, one that ranks with (or perhaps above) our greatest cultural achievements…"
Joe Fassler, "All Immigrants Are Artists," the Atlantic (August 2013)
Videotage (Hong Kong) and MOMENTUM (Berlin) invite you to support Migrating Images, our research-based artist exchange program that aims to capture, explore, and redefine the ephemeral experience of two cities – Hong Kong and Berlin – with video art.
Your contribution will support two artists (one based in Hong Kong and one Berlin) to engage and research the impact of immigrant societies in these two multicultural epicenters, and their research will become the basis of their video art projects to explore the multiple aspects of migration on the community.
Besides exploring issues related to migration, the exchange artists will participate in a series of workshops and lectures in the local art scene during their residencies. After they have returned, they will also play the role of the curator for a show in their home base featuring selection from the collections of Videotage and MOMENTUM respectively. Migrating Images is conceptualized to be a multi-dimensional exchange project that involves the local art communities of the two cities.
Tales of Two Migrating Cities
Both Hong Kong and Berlin are "migrating" in multiple sense of the word. In their histories, both Hong Kong and Berlin have emerged as epicenters of Asia and Europe under continuous waves of immigration. In recent years this movement of people is happening even in a faster pace. In the last decade Hong Kong suddenly finds herself opening its doors to large numbers of new immigrants from mainland China and Southeast Asia, while the demographics of Berlin have also changed dramatically due to newcomers of non-German descent. The current Syrian refugee is an even more pressing issue – especially in the world after the Paris attacks.
Besides the movement of people, both Hong Kong and Berlin are also home to migrating objects. As a former British colony, Hong Kong is still laden with artefacts from its colonial past. This has become an issue of hot debate under Chinese rule – are these objects to be retained or replaced by those that bear marks of the current Chinese regime? On the other hand Berlin's ethnographic museums are full of objects that remind viewers of their origin and their "migration" during the colonial era.
With these commonalities, one might ask: how has this "migrating" experience shaped these cities? How have the culture, religion, and social customs of the immigrant communities impacted these epicenters in Asia and Europe respectively? How has the flow of people changed the city fabric in a visible – or invisible – manner?
EDUCATIONAL PROGRAM
Salon Program:
Collaborative Network – Curating in the 21st Century
Mar 25, 14:00 – 15:00
@ Auditorium, Entrance Hall 1A, Level 1,
Hong Kong Convention and Exhibition Centre
How should curating be in the 21st century? By bringing together veteran curators across the globe, this discussion contemplates different views regarding contemporary curating, with a focus on new networking channels.
Speakers:
Menene Gras Balaguer, Culture and Exhibitions Director, Casa Asia, Barcelona & Madrid
David Elliott, Freelance Curator, Writer and Teacher, Berlin & Belgrade
Isaac Leung, Artist, Curator and Chairperson, Videotage, Hong Kong
Jamie Wyld, Director, Videoclub, London
Moderator:
Adrian George, Deputy Director and Senior Curator, UK Government Art Collection, London
Swapped!
Exchange Artists On Exchange
Mar 24, 15:00 – 16:00
@ Crowdfunding Lab, Level 3 Concourse,
Hong Kong Convention and Exhibition Centre
Speakers:
Rachel Rits-Volloch, Founding Director, MOMENTUM, Berlin
Morgan Wong, Artist, Hong Kong
Moderator:
Kevin Lam, Assistant Curator, Videotage, Hong Kong
A roundtable discussion between artists from Videotage's Kickstarter campaign, selected by the Art Basel Crowdfunding Initiative to be endorsed on their curated page. This campaign supports a trans-national project to raise the awareness on the experiences of immigrants in the epicenters of Asia and Europe – Hong Kong and Berlin – through an artist exchange program. A presentation will be held by Morgan Wong and Rachel Rits-Volloch to discuss the concepts behind the campaign.'
The Dying Institutions:
Museums and Art Schools in the 21st Century
Mar 25, 16:00 – 17:00
@ Crowdfunding Lab, Level 3 Concourse,
Hong Kong Convention and Exhibition Centre
Speakers:
Louis Ho, Research Assistant Professor, Department of Humanities & Creative Writing, HKBU, Hong Kong
Jonathan P. Harris, Head of School of Art, Faculty of Arts, Design and Media, Birmingham City University, Birmingham
Ying Tan, Curator, Centre for Chinese Contemporary Art; Curatorial Faculty, Liverpool Biennial
Rachel Rits-Volloch, Founding Director, MOMENTUM, Berlin
Chantal Wong, Strategy & Special Projects, Asia Art Archive, Hong Kong
Moderator:
Iven Cheung, Assistant Curator, Videotage, Hong Kong
Roundtable discussion with curators, art historians, and educators from universities and art institutions across the globe will discuss the future of curatorial and educational practices.
About the MOMENTUM COLLECTION
The MOMENTUM Collection was established in 2010 through the generosity of a small group of artists who's work was shown at MOMENTUM | Sydney in May 2010. The donations of their works constituted their investment in MOMENTUM's then-nascent model as a global and mobile platform for showing time-based art. Five years later, the MOMENTUM Collection has expanded from its original roster of 10 to 32 exceptional international artists. The Collection represents a cross-section of 120 outstanding artworks in a diversity of media: video, performance, photography, painting, collage, and text. It ranges from some of the most established to emerging artists representing 18 countries worldwide: Australia, New Zealand, Papua New Guinea, Korea, China and Hong Kong, the Philippines, Puerto Rico, Finland, Bulgaria, Turkey, Israel, Ethiopia, Poland, Germany, Denmark, the Netherlands, the US, the UK, Canada. The growth of the Collection reflects the growth of MOMENTUM itself. While we develop and nurture our relationships with these artists, we continually endeavor to bring their work to new audiences worldwide – both through our web archive, and through cooperations with partners such as LOOP and IkonoTV, as traveling exhibitions, and through educational initiatives such as the Time_Art_Impact Dialogues with Minsheng Art Museum, Shanghai
[click HERE for more information].
To view the MOMENTUM Collection CLICK HERE >>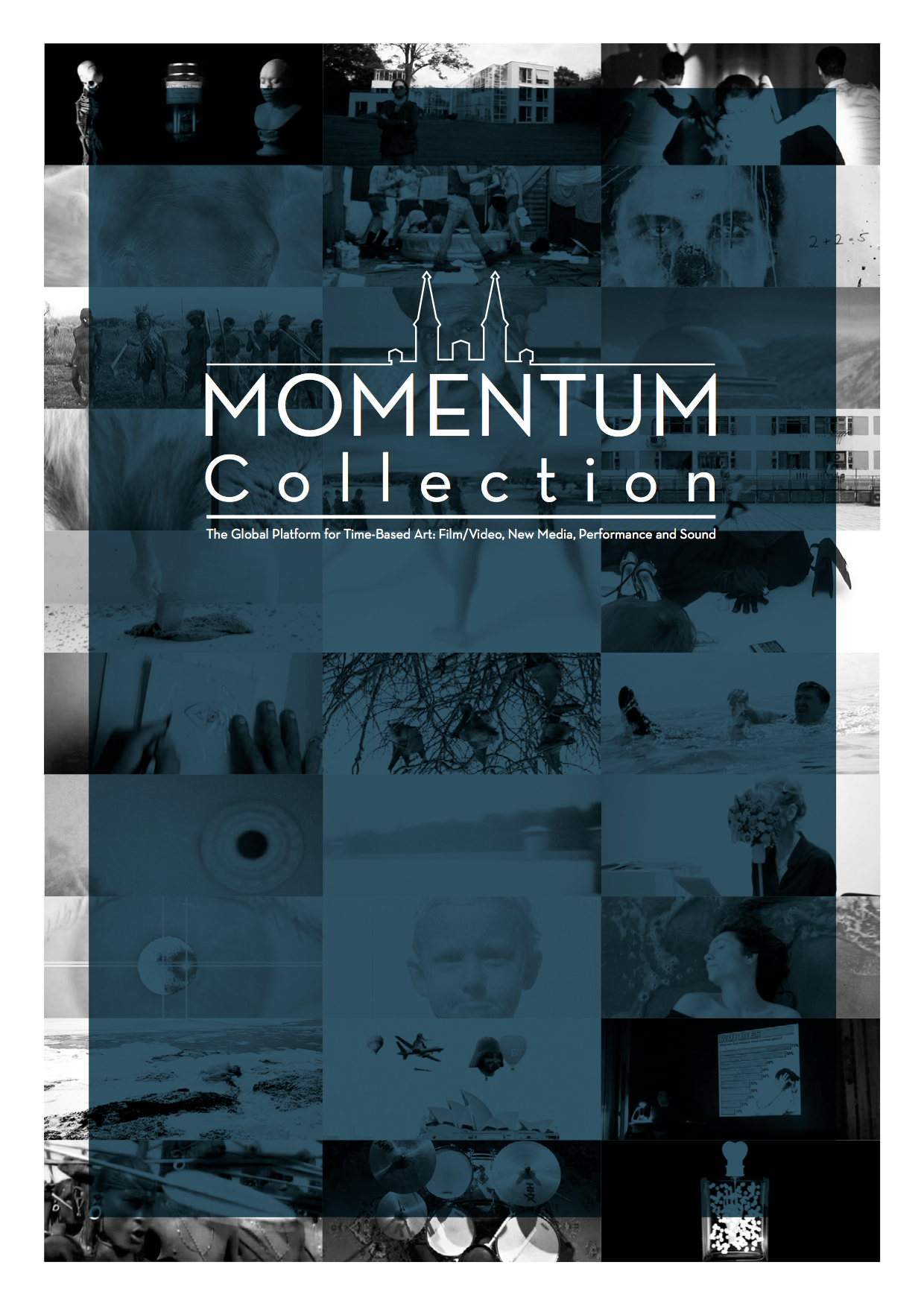 About Videotage
Videotage is a leading Hong Kong-based non-profit organization specializing in the promotion, presentation, creation and preservation of new media art across all languages, shapes and forms.
Founded in 1986, Videotage has evolved from an artist-run collective to an influential network, supporting creative use of media art to explore, investigate and connect with issues that are of significant social, cultural and historical value.
Videotage is dedicated to nurturing emerging media artists and developing the local media arts community. It has organized numerous events and programs since 1986, including exhibitions, presentations (Dorkbot), festivals (Wikitopia), workshops, performances, residency program (FUSE) and cultural exchange programs, as well as continually distributing artworks through its networks and publications; and developing an extensive offline and online video art archive (VMAC).
New initiative Acentered – Reterritorised Network of European and Chinese Moving Image is a project umbrella that interlinks extensive media art institutions in China and Europe. Videotage is planning to further initiate exchanges between Europe and China looking at the future of experimental moving image.
About Art Basel
Art Basel stages the world's premier art shows for Modern and contemporary works, sited in Basel, Miami Beach, and Hong Kong. Defined by its host city and region, each show is unique, which is reflected in its participating galleries, artworks presented, and the content of parallel programming produced in collaboration with local institutions for each edition. In addition to ambitious stands featuring leading galleries from around the globe, each show's singular exhibition sectors spotlight the latest developments in the visual arts, offering visitors new ideas and new inspiration. For further information please visit artbasel.com