Yun-Fei Ji survey to open at Wellin Museum, Feb 6
[press release]
Clinton, NY – The vignettes depict a leering man with a pig's snout, another in a rumpled suit, a hunchback hag with a snaggle-toothed grin, and a peasant with a jowly frog face, all protagonists in Yun-Fei Ji: The Intimate Universe at the Wellin Museum of Art at Hamilton College on view from February 6 through July 2, 2016.
The Intimate Universe presents 44 scrolls, paintings and drawings created by the Beijing-born artist Yun-Fei Ji over the last decade, drawn from major institutions as well as private collections, and new works made specifically for the exhibition. These include a suite of three related scrolls and recent experimental works with elements of three-dimensionality made at the Dieu Donné papermaking workshop. Twenty-six never-before-exhibited preparatory sketches are featured as well.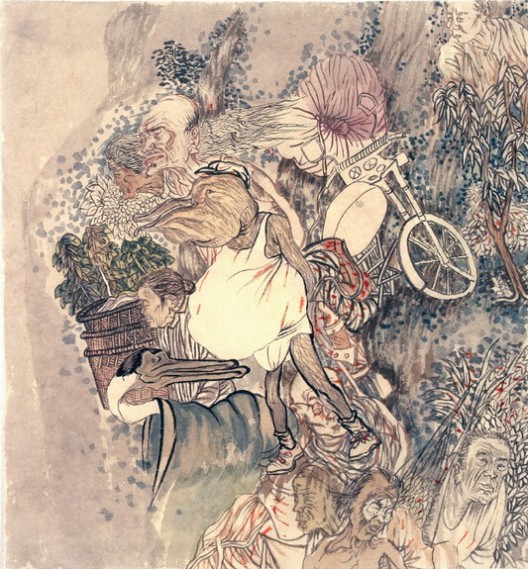 "For more than a decade, Yun-Fei has chronicled the harsh reality of the dispossessed in today's China employing the idealized tradition of Chinese landscape painting," says Tracy L. Adler, director of the Wellin Museum of Art at Hamilton College and curator of the exhibition. "Today, he's exploring new ground, but still as an artist reimagining storytelling in contemporary terms."
"The Intimate Universe is a commissioning project as well as a loan exhibition. Yun-Fei will create a large-scale, three panel scroll for which we are building a special viewing room within the exhibition. As well, through the residency we've initiated with Dieu Donné, we are encouraging Yun-Fei to experiment with paper as a mutable form. Our aim is to capture this artist's range and latest preoccupations."
The three-panel scroll painting commissioned by the Wellin will be showcased in its own gallery, reached through a moon gate doorway. The work will be set within a shallow wall recess that winds horizontally across three walls.
On the outside of the scroll room is another exhibition highlight, a 60-foot long scroll entitled The Village and Its Ghosts (2014). This panorama depicts the movement of ghosts, folkloric humans, hucksters, animal hybrids, skeletons and other figures within a classically limned landscape: hundreds of mini-dramas unfold, from a procession of claw footed and insect-like human figures to a young woman hand pollinating a stand of trees in a world where bees are becoming extinct. First seen last year in Prospect.3 in New Orleans, the painting will be displayed unframed, also within a recessed channel.
"Both the intimate scroll gallery and the larger gallery environment are designed to subtly evoke the forms and creative landscape of the Chinese garden design of Suzhou," notes Adler. "It is only as the visitor engages with the artwork that other, more difficult, interpretations come into focus."
On another large wall will be featured 26 never-before-exhibited preparatory sketches, hung in a web-like configuration intended to reflect linkages. Created only recently, they record the movement of the dispossessed in China as a visual cacophony of overturned plastic buckets, bulging garbage bags, fallen branches, gutted cabinets, and upturned chairs dotted by improvised shelters.
New paper works created by Ji in a residency underwritten by the Wellin at Dieu Donné in New York City will evidence the artist's thinking as he experiments with texture and form and serve as a bridge between The Intimate Universe and a concurrent exhibition Pure Pulp: Contemporary Artists Working in Paper at Dieu Donné.
While the displacement of over a million and a half people due to the construction of the Three Gorges Dam on the Yangtze River is the basis for one long scroll on view, The Move of the VillageWen (2012), many of the more recent drawings and scrolls to be featured, including a new series created for the Zeno X Gallery in Antwerp, look to other places and times, or to a timelessness, to convey a sense of a world no longer in harmony and a present day haunted by ghosts of the past.
"We at the Wellin hope that this exhibition will provide a platform for launching a dialogue about the relationship between art, power, politics and the environment," adds Adler. This winter, the curricula of a number of Hamilton College courses will incorporate concepts and ideas relating toYun-Fei Ji: The Intimate Universe and the Wellin will offer programs for K-12 students in conjunction with the exhibition.
Publication
Yun-Fei Ji: The Intimate Universe, a major monograph publication with essays by Adler and Steven J. Goldberg, Associate Professor of Art History at Hamilton College, is forthcoming.