Beijing Commune – Hu Xiaoyuan – Ant Bone
[Press Release]
Beijing Commune is pleased to announce the opening of Hu Xiaoyuan's third solo exhibition "Hu Xiaoyuan: Ant Bone" at the gallery on November 15th, 2015. The exhibition will continue until January 2nd, 2016. Ant Bone, Splinters of Grass, and Litho / Obstacle form a trilogy that Hu plansto create over the next two years. The three titles refer to the symbioticrelationship between the weak and tenuous and the strong and lasting.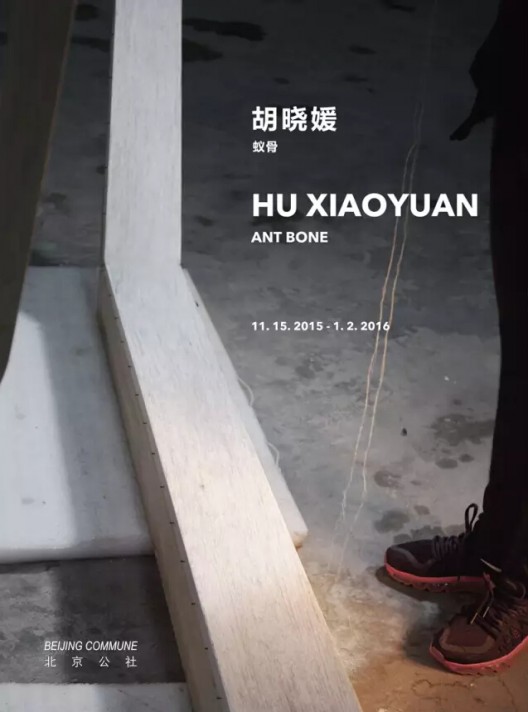 Hu's artistic style has always been dominated by delicate, analytical, and implicit contradictions. Her cross-media works, including installation, painting, and multimedia, all demonstrate a sensitivity toward materials which arise from her careful observations of daily life; she manages to isolate a unique aesthetic from a dialectical process that studies meaning and perception.
The piece on exhibit, Ant Bone, is the largest scale experiment to date from a series of installations of the Wood theme that began back in 2008. Hu'sl atest video pieces, Bang, Gentle and Painful Ripples, and The Character of Human Nature echo the Wood series, demonstrating anentanglement between the concrete and the metaphysical.
Hu Xiaoyuan was born in Harbin in 1977. She graduated from the China Central Academy of Fine Arts, and currently lives and works in Beijing. Hu Xiaoyuan's works have been widely shown in the international art scenes. Important shows she has taken part in include "The Great Acceleration: Taipei Biennial" (Taipei, 2014), "The Ungovernables: New Museum Triennial" (New York, 2012), and Documental12(Kassel, 2007). Her works have also been shown in numerous museums and art centers and exhibitions she has participated in including Palais de Tokyo (Paris, 2014), Museum Boijmans Van Beuningen (the Netherlands, 2014), Tampa Museum of Art, Museum of Fine Arts, St. Petersburg (Florida, U.S., 2014), Power Station of Art (Shanghai, 2014), Musée d'Art Moderne de la Ville de Paris(Paris, 2014), Bildmuseet Umeå University (Sweden, 2014), Rockbund Art Museum (Shanghai, 2013), Ullens Center for Contemporary Art (Beijing, 2013),Kunstmuseum Basel (Switzerland, 2005), and so on.