Beijing Commune – "Lu Yang Delusional Mandala"
[Press Release]
Beijing Commune is pleased to announce the opening of Lu Yang's first solo exhibition "Lu Yang Delusional Mandala" at the gallery on September 24th, 2015.The exhibition will continue until November 3rd, 2015.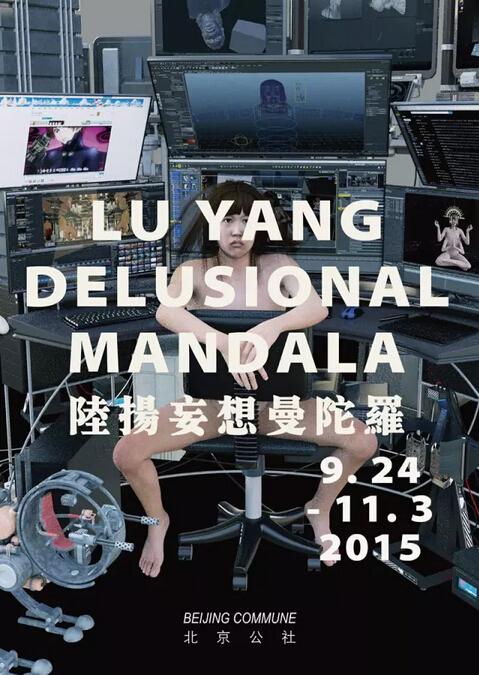 Lu Yang has gained acclaim for her work in new media art and bio-art. She is adept at creating cross-medium pieces that leverage video, installation, animation, photography, and video games, in order to explore the meaning of life as well as question its very existence. In her artistic explorations, Lu has mixed elements from diverse disciplines such as biology, neurology, medicine, and theology and arranged them into her unique system of aesthetics. This solo exhibit is an extension of Lu's primary creative concepts and makes use of familiar elements, traversing between the disciplines of religion and neuroscience, and constructing a clear and central thread that winds through her entire body of work.
LuYang was born in 1984 in Shanghai, China. She received her MFA in New Media Art department inthe China Academy of Art in 2010. She currently lives and works in Beijing and Shanghai. Her works have been featured in many museums and institutes, such as Ullens Center for Contemporary Art (Beijing, 2011); Minsheng Museum of Art (Shanghai, 2011); Power Station of Art (Shanghai, 2012); CAFA Art Museum (Beijing, 2012); Guangdong Museum of Art (2012); Contemporary Arts Museum Huston (2012); Tampa Museum of Art (2014); Museum of Fine Arts, St. Petersburg (Florida, U.S. 2014); StavangerArt Museum (Norway, 2014); Museum Fridericianum (Kassel, 2015); Orange County Museum of Art (2015); OK Corral & Science Friction (Denmark, 2015) and so on. Her recent important exhibitions include "Reactivation –Shanghai Biennale" (2012); The 5th Fukuoka Asian Art Triennale (2014); The 4th Moscow International Biennale for Young Art (2014); etc. Lu Yang has been nominated for the Pierre Huber Prize (2014). She is participating in the 56th Venice Biennale – China Pavilion now. Her works are going to be shown at Moscow Biennale and Wesleyan University Center for the Arts. Her works have been collected by Fukuoka Asian Art Museum.