Art in the Age of Mass Production: Is the Long Museum Just Another Museum?
China's aptitude for mass production extends beyond the realm of products to things like architecture, infrastructure and even museums. But like a Jingdezhen factory manufacturing fake Qing-dynasty vases, there is a propensity for churning out large quantities of empty vessels. These spaces are typically giant — and not always impressive — buildings often staffed with a skeleton crew of indolent employees. And like ornamental objects in a far corner of a grand hall, they are typically forgotten once the red ribbon is cut. So whenever a new one is announced it is easy to be skeptical. The Long Museum (210 Luoshan Road #2255, Pudong New Area East, Shanghai), which opened December 18 last year, has the potential to be another empty vessel or it could perhaps, under the right management, be something more.
The glamor project of art collectors Liu Yiqian and Wang Wei, the museum has the advantage of having wealthy benefactors. Liu got his start in the handbag business and then benefited from a lucky gamble on the stock market. He used this windfall to build a career as a financier and Hurun Report states his assets at 11 billion RMB (approx. 1.7 billion USD). He eventually transferred some of his stock earnings into other "investments" — a mammoth "auction-centric" art collection which covers everything from antiquities to contemporary painting.
The Long Museum's opening show features curatorial heavy hitters such as Li Xianting and Lu Peng, while the building itself, located not far from the Himalayas Art Museum and Kerry Center in Pudong, is tastefully clad in white granite. Though the architecture is not trailblazing (and unlike the bizarre, cave-like Himalayas, which feels like being inside a pair of human lungs), its elegance is complemented by the competent exhibition design.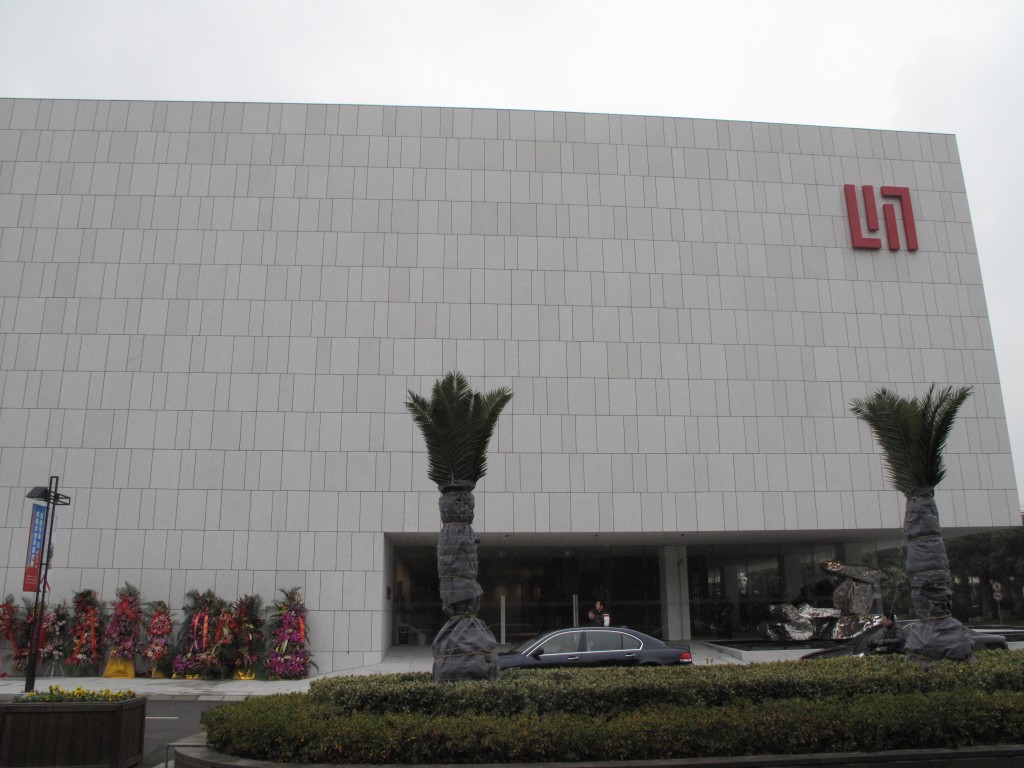 The museum will feature primarily the collection of Liu and Wang — Liu being partial to the antiquities and Wang a proponent of the contemporary — with non-collection works to be incorporated into future exhibitions. The inaugural show consisted of "New Style: Invitational Opening Exhibition of LONG MUSEUM" curated by Li Xianting, which truth be told seemed like a rather uninspired "Who's Who" of painting — lesser works of Yue Minjun, Zeng Fanzhi and other auction darlings — with works crammed chock-a-block into the museum's event space.
Also on show was "New Art History from LONG Collection" [sic] by Lu Peng — a survey of early contemporary and modern works which included some representative works of He Duolin and Zhang Peili with less representative works by Zhou Chunya and Li Shan. With both typical and uncharacteristic works, the exhibition serves as a useful reference for those interested in understanding the stylistic range of the late 80s and early 90s, even though many of the more conceptual figures like Gu Dexin and Huang Yongping and so forth were conspicuously absent. Sadly their rightful positions in this history were taken up by kitschy auction house / art market favorites such as Li Jikai and Liu Ye.
One of the more interesting as well as perplexing parts of the collection was "Revolutionary Art Since the Yan'an Era," which includes works such as "Review" by Ai Minyou and Zhang Qing — a painting of Jiang Zemin surrounded by generals and party leaders standing proudly atop an aircraft carrier with a roiling ocean below, phalanxes of marines lining the ship decks and helicopters zooming through the air. Though one might question the collectors' motives promoting an era of extremely limited artistic freedoms, it's important to maintain an archive of these works, in order to allow future generations to not only understand the ideological tone of the era but also to appreciate the skill of these painters in composition, light and technique — as seen in "On the Mountain of Taihang" by Su Gaoli, Du Jian and Gao Yaguang .
Finally in "Chinese Traditional Art from LONG Collection," we can also find a decent collection of antiquities such as the Qing-dynasty "Imperial Paduak Throne Carved with Water Wave, Bat, Cloud and Dragon Pattern" and some exquisite "Sketches of Rare Birds" by Zhao Ji.
Before the opening of the China Art Museum in Pudong, the public had precious little access to any "permanent collection" of art. This museum is certainly a vital addition to building an understanding of Chinese art, but one has to wonder why they may have chosen such a far-flung location, especially since they profess to have an interest in pursuing educational programs, with claims of many lectures planned along with an extensive archive.
Yet a month after the museum opening, staff were still vague about the details of such programs or future exhibits. It seems that much of the attention was focused on the opening party and lavish banquet with over 1,000 guests — plus one Chairman Mao impersonator who crashed the party complete with bouffant and grey tunic.
VIPs had to use a swipe card to enter the banquet at the Kerry Hotel and were given stylish carry-on suitcases which contained the catalogue. Those attending the dinner were entertained with raffles to win iPhones (iPhone 5) and the meal was constantly interrupted for a litany of official speeches and various musical acts including a series of women in white dresses (seriously lacking in vocal skills) who belted out a Christian inspirational song.
There is no doubt that there is a lot of money behind this museum. It cost 200 million RMB to build, but will it become a big white granite elephant in the hinterland of Pudong? Their operating budget of 10 million RMB a year seems a tad low, especially for a team of 20 people. In terms of curatorial might, they have brought in Lu Peng and Li Xianting who are on the advisory team, but Lu Peng was the only one who wrote an essay (which he "wrote on the plane from Taipei to Hong Kong," according to the catalogue) and the chief curator is Wang Wei, whose prime qualification seems to be being married to Liu Yiqian. Though she has, according to her staff, been spending long hours in the museum, one has to question her curatorial vision, especially when the opening show looks like it was drawn from a Poly Auction catalogue with no video, no installation piece, with the edgiest work in the form of sculpture being a glimmering Zhan Wang resting in a reflection pool.
Wang was quoted by AP as saying "The rich housewives have money but do not know how to spend it without shopping… I want to teach them to be more tasteful." Yet she herself has collected little beyond the "Guccis" and "Pradas" of the art world.
On top of this, the couple (always keeping up with the Jones') plans to open yet another and much bigger space of 30,000 sq. m in a soon-to-be-opened cultural district right near the proposed museum of Indonesian Chinese tycoon Budi Tek. The district is an 8-km corridor which begins at Ruijin Lu and ends at the Middle Ring Road occupying the left bank of the Huangpu River and will feature several performing arts centers along with "Dream Center" — a joint venture with DreamWorks animation. After the new museum opening, the collections will likely be split between the two spaces.
Though after one show it may be slightly premature to declare the Long Museum an empty vessel, the overall lack of organization and curatorial vision, baofahu-style reception and seemingly absent educational program do not bode well for a space of such high potential.