Thirteen Years in Liangdeng: Huang Yugang's Art
Liangdeng Village, where Huang Yugang took his root, is located in Fenghuang Prefecture in western Hunan. As a typical poor Miao village, it differs widely from the bustling ancient town called Fenghuang. Along a newly opened road winds its way through the mountain we drove slowly toward the village, now and then shuddering at the A-shaped curves — it is in this village that Huang has stayed and painted for thirteen years.
No Obsession, No Blindness— Huang Yugang and Liangdeng
There is a tendency for contemporary artists to get obsessed with local culture, but a number of them have determined their subject matter or topic even before the work is done, some look forward to the pastoral life where country folks are far simpler than indifferent city dwellers, some feel pity for the poor land where ignorant rustics represent fairly suffering, distress and poverty.
To Huang, however, Liangdeng Village is his doomed native land. The village in his paintings speaks neither proud loneliness nor abject misery. "I hate begging for pity for my works, or for those painted in my works. I wish to give expression to anything but 'suffering'", he told us. The thirteen years here has turned him into an artist on the spot, with all a priori becoming a "blindfold": not professing to be wrapped up in misery, these villagers are no special beings, and they, on the contrary, live their lives with neither bitterness nor sweetness. His close involvement in their life leads to strengthened narrative function of his paintings, to which painting from life and filed work academists are used to are no equal. His works therefore touch on fine arts study, sociology, folklore, anthropology, etc.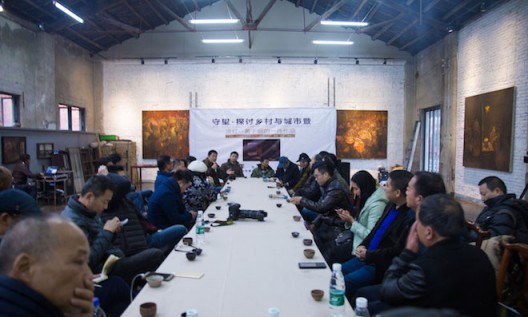 Curtain up and down — in Awe of the Country Field
"What has Long Qiuquan and his family taught us?/be in awe of time/ be in awe of sex / be in awe of life /be in awe of space,"as is written in one of Huang's informal essay. Time and space, to show the reverence, seemed to respond in a very serious way: on the morning of the opening, there was a funeral for the village head's father. The village head is on good term with Huang. A Life ended and an exhibition opened. Finite life encountered infinite art that morning, something subtle but cruel.
An observer and recorder in awe, he sees the law of life from even the slightest, and he is good at identify details, like the mentally-retarded pregnant woman in "Midnight", the family snuggling up around the stove in "That's It", the peaceful old man in "King of Miao Song", etc. After giving up grand narrative, he began to focus on individuals in the kitchen, at table or around the stove… He was impressed by Chinese farmers'attachment to land, their restraint on desire, their reverence for space, as well as their unadorned understanding of the environment where they live.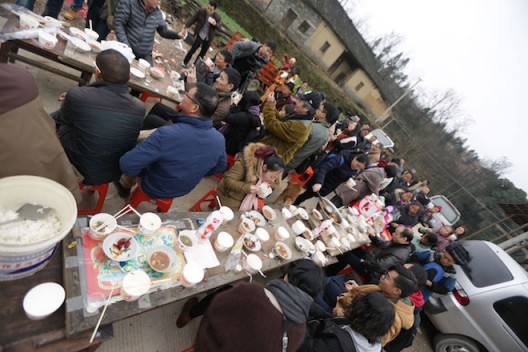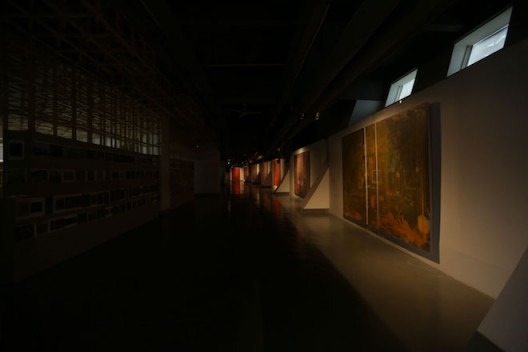 Change and unchange — Country Field in the throes of industrial civilization
Fei Xiaotong, a famous Chinese sociologist, once pointed out that Chinese farmers were typically "easy to be contented"and "used to accommodating themselves to the limited resources with restraint on their own desire". In a primitive farming community, rural population mobility is quite limited due to their considerable reliance on land. in Huang's works, however, everything changed: the shock from industrial civilization has caused full mobility of the rural population. With few male laborer between 15 and 55 in the village, the streets or the painting are mostly dominated by women and children.
When asked whether these village-themed paintings were aimed to help alleviate poverty there, Huang did not answer, as after all, it is the village secretary's job to combat poverty, and Huang himself is more a participant, recorder and observer of the rural life there. But there is no denying that to record is to rebel, to change or to refuse change is only at the sway of the times, and in the end everything returns to its origin.