Double Fly Art Center Solo Exhibition – SNAP
[Press Release]
School of Visaul Arts Art Platform proud to annouce Double fly Art Center solo exhibition Run Peachland Run.
Double fly Art Center has beenestablished for nine years. For Nine Little Dragons of Double Fly, the annualspring is used to recall upsand downs of art.
Now, most of members of Double Fly havebecome husbands and fathers, feeling vicissitudes of time when they watch theSpring Festival Gala with their wives and children (or pets) together. At thispoint, they cannot help thinking that why not do something in this green andpink spring of the Year of the Rooster?
So, on March 4, 2017, in a high-rise topfloor of Bund of the luxury area in Shanghai, Double fly Art Center will set upa paradise for you, in which we can swept the floor, drink tea, paint sketchesand do other quiet things, enjoying the brisk wind and the acceleratingrotation. All friends go together willingly, seeing a dream of art come truewith aging artists.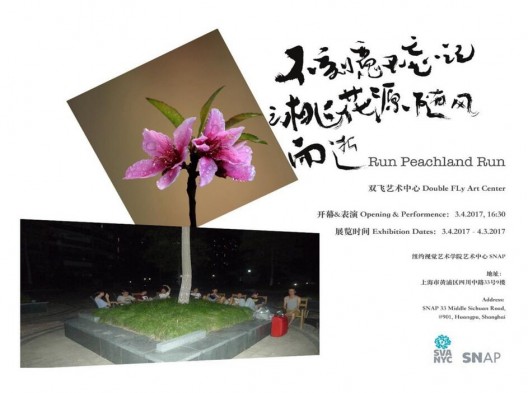 About Double Fly Art Center
The Double Fly Art Center established in 2008, graduates by 9 young people graduated from identicalacade my and department. All the time, "Double Fly" to the name of a "Art Center"organization and creation seems to berelated with the contemporary artactivities and works, They specializes in agreat variety of artistic model,traditional's like Ink of birds and flowers, sketch avatar; modern's such as moderndance, the third brother animation. Atmanifestations, the famous full_media artist Wang Two ball commented Double Fly:" They sometimes rigorous sharp, direct plug system defects, sometimes delightful, free outside of the hustle and bustle of their appearance is not deliberately high-profile but always attractall audience, the various civilian spectators and veteran acclaimed as anatural." While they insist their ownartistic creation, they appears togetherin any kind of situation like somelife public place, the art exhibition openingand so on. They always make theperson surprise because of their performance. For example they acted the robberin the bank which was repairing to take remnant. When they was in the washingfoot room and have massages, they groaned like xanthic film actress. Played with the computer games to grouped a rock androll band and perform in live. Theyalso made mtv like entertainment stars tomake CD sale and so on. They do not think their performance relate with their artistic creation. So when they invited to join the art exhibitions they alwaysto make exhibition funny. For instance: in 2009, in Shanghai's M50, Double Fly'sexhibition opened like a collection of theirnew MV Disk andT-shirts; in 2010 Beijing 798, they turned the exhibition hall like a past time dirty theater to show their activity video; Inthe young artist group exhibition , theymade noisyand strong mtv " Contemporary Business" teases the display systemitself; duringthe SH Contemporary 2012, they disguised as terrorists live videoto the worldthey threatened to kill the arts, in the case of no ransom todestroy many works of art cruel. March 2014, eight members of the Double Fly Art Center arrived in New York, 14 boxes of garbage bags, 1000 rubbish installation ,2000photos, 3000 zero flower money cash-bookmarks, 10000 lottery, during four daysin The Armory Show, Double Fly booth More than 12,000people visit, Double FlyArt Center bombing The Armory show live! Their creation maintained extemporaneously, always acted according to the local factor to cause the event. Double Fly Art Centermembers live in Hangzhou, Shanghai, Beijing and other places now.