Francis Alÿs
La dépense
Rockbund Art Museum Shanghai
[Press Release]
Nov 9, 2018 – Feb 24, 2019
Venue: Rockbund Art Museum Shanghai (20 Huqiu Road)
Artist: Francis Alÿs
Curator: Yuko Hasegawa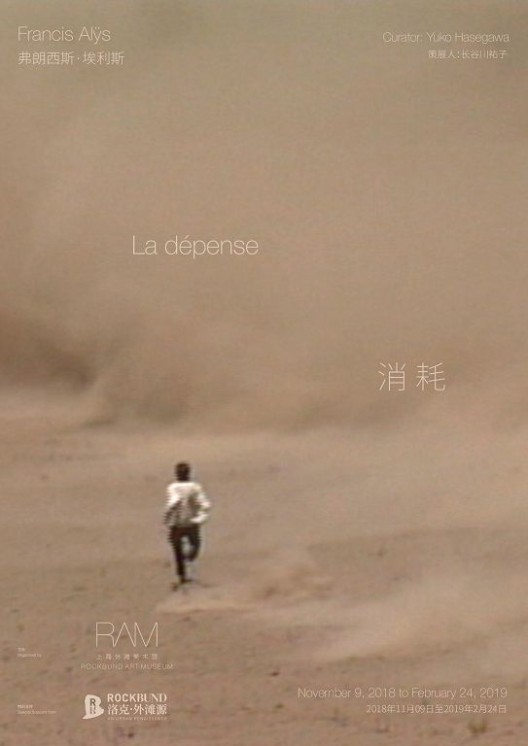 The Rockbund Art Museum Shanghai will present the first large-scale solo exhibition in China by the Belgian artist Francis Alÿs, "La dépense," from November 9, 2018 to February 24, 2019, curated by Yuko Hasegawa.
One of the most recognizable and influential artists in contemporary art history, Francis Alÿs possesses a distinctive identity and background as a Belgian artist living in Mexico City. Arriving in Mexico City in 1986 armed with an architectural education, Alÿs first engaged in work that revolved around Mexico's distinctive local culture, history, and society, ultimately extending to a series of performances around the world. With his acute poetic and imaginative powers of perception, Alÿs raises questions about anthropology and geopolitics, conducting close observations and practices around everyday life. He has had numerous major exhibitions, including at the Tate Modern in London, MoMA in New York, and the Museum of Contemporary Art in Tokyo, among others. For the artist's first institutional solo exhibition in China, La dépense will present close to 1300 works, including videos, paintings, drawings, sketches and installations, some of which have never been shown to the public before.
The exhibition is entitled La dépense, which could be translated as "consumption," a notion much discussed by Georges Bataille. As the curator Yuko Hasegawa notes: "In a China transformed by a fast-paced transition to capitalism and the efficiencies of technology, excessively 'non-productive consumption' (dépense improductive) is just as important in human activity as productive consumption."Such a notion is tightly wound into Alÿs' artistic practice, which Hasegawa commends for "courageously grappling with the status quo; casting doubts on our visual sense; rethinking the meaning of the labor of manual work and what it means to consume time: these are among the subtle messages from Alÿs' work that can be applied to the situation in China."
From 2000 to 2010, Alÿs stationed himself in the plateaus of Mexico with a handheld video camera, boldly rushing towards the eyes of tornadoes. Capturing the extreme tension between the tornadoes' exterior and the tranquility of its inner core, this well-known video work, Tornado (2000-2010), visually narrates an unserious, non-productive act. As Alÿs has stated, "we of our times must create fables." The large number of tornado sketches that the artist amassed during this decade—the entire process of production, from conception to video editing—will be displayed to the public, revealing a rarely seen facet of the work. Similarly, in the latest video work Exodus (2013-2018), a girl repeatedly braids and unbraids her hair. For this less-than-one-minute duration video, the artist created close to 1000 hand-drawn sketches, which will all be presented in the exhibition. The repeated spiral braiding action of the hands bears a conditional relation to the tornadoes, while at the same time creating a sharp contrast with the work. As the curator explains: "Here you will find direct encounters and physical involvement of the sort gradually threatened and forgotten by our digitized world, as well as suggestions that make us aware of, or recognize anew, the value of manual work."
Alÿs has always maintained a consistent creative trajectory while bringing in new ideas and movements. For instance, in a series of work with a temporal theme, Le Temps du sommeil (1996-), the artist has devoted over 20 years towards making works based on dreams, continually adjusting or adding to the same 111 small oil paintings on canvas, with the total set and number of canvases never changing. This exhibition will present the new painting series "Nei Mongol" (2017), which came from recent trips Alÿs made last year to Shanghai and Inner Mongolia. This recalls the series Loop (1997) made during his first visit to Shanghai in the 90s, a journey where the artist continually travelled in a South East direction around the world. This ensured that the artist undertook the longest possible route back to his departure point, ensuring that his journey would finish on the border separating Mexico and the USA, but from the other side.  This epic of anti-economic creative logic offers a good example of the principle "maximum effort, minimum result" that could be read as the postulate running behind the works on display in this exhibition.
For the duration of Francis Alÿs: La dépense, Rockbund Art Museum will host a series of public education events, including lectures and workshops, allowing viewers to further engage the ideas of the artist's work. For the occasion of Alÿs' first institutional exhibition in China, an exhibition catalogue will be published in early 2019. The exhibition will coincide with the artist's participation in the upcoming 12th Shanghai Biennale at the Power Station of Art in Shanghai, which will also open in November 2018.
About the artist 
Francis Alÿs was born in Belgium in 1959 and trained as an architect before re-locating to Mexico City in 1986, where he has been based ever since. He is best known for his actions, which he documents in various ways, some merely involving the artist walking through the city. Others are epic-scale events set in dramatic landscapes bringing together hundreds of participants. Alÿs also works with painting, animation, and drawing, with many of the images he creates having a dreamlike surreal quality. His actions are frequently humorous, often transient, and can sometimes seem absurd, and yet they are always concise and carefully planned. For a long time Alÿs has been interested in spreading news about his work through unconventional means such as rumor, allowing audiences to interpret his projects in unpredictable ways. Each of these poetic qualities contributes to Alÿs' idiosyncratic way of approaching questions to do with urbanism, economics, migration, and borders. Throughout his career he has particularly investigated the processes of modernization in Mexico and Latin America.
About the curator

Yuko Hasegawa is Artistic Director of the Museum of Contemporary Art, Tokyo (2016 – present) and Professor of the Graduate School of Global Arts, TokyoUniversity of the Arts (2016 – present). She has previously been Chief Curator and Founding Artistic Director of the 21st Century Museum of Contemporary Art, Kanazawa (1999 – 2006) and Chief Curator of the Museum of Contemporary Art, Tokyo (2006 – 2016). She is currently Artistic Director of Inujima Art House Project (2011 – present). She was Curator of 11th Sharjah Biennial (2013), Co-Curator of 29th São Paulo Biennial (2010), and Artistic Director of the 7th International Istanbul Biennial (2001).
Hasegawa's recent projects include the FUKAMI, a dive into Japanese anesthetics at Hotel Salmon de Rothschild(2018),  the 7th International Moscow Biennale of Contemporary Art: Clouds ⇄ Forests (2017), Japanorama: New Vision on Art since 1970 ​​​​at Centre Pompidou-Metz (2017), Kishio Suga: Situations at Pirelli HangarBicocca, Milan (2016), and New Sensorium Exiting from Failures of Modernization at ZKM | Center for Art and Media Karlsruhe (2016).
She has served on the jury for the Nasher Prize Nasher Sculpture Center, Dallas (2015 – 18), the Premio MAXXI BULGARI, Roma (2017 – 18), and the 48 Esposizione La Biennale di Venezia (1999), among others, and is currently jury member of Hugo Boss Asia Art Award (2013, 2015, 2017).
About Rockbund Art Museum
For over eight years RockbundArt Museum has been at the forefront of the growing contemporary art scene in China, presenting world-class programs in a unique museum setting. A boutique museum of the utmost quality, RAM holds a unique position within Shanghai's continually expanding cultural scene. The museum is located within the Bund district and housed in an exquisite heritage Art Deco building, which was renovated by the architect David Chipperfield before opening in 2010.
The museum's exemplary curatorial, education and research programs showcase acclaimed and emerging Chinese and international artists, responding to and reflecting on present and urgent challenges of society locally and internationally. RAM presents a bold and pioneering program of three exhibitions and a special project "RAM HIGHLIGHT" per year, exploring and realizing artists' most ambitious projects and working with them to tailor exhibitions to the Museum and to the Shanghai context, often with a large proportion of works being new commissions. RAM devises, produces and curates its program in-house, in conjunction with carefully selected international collaborations of the highest quality. For more information, please visit: www.rockbundartmuseum.org