Shanghai Gold Rush Part 1: West Bund Art & Design
I stepped off the plane, inhaled deeply, and choked on the news that America had elected Donald Duck as president. Had the plane actually crashed in a massive ball of fire without me noticing? Shanghai rolled on. I went to a Watsons drug store to buy some orange hair dye but it was sold out. Once again, China was ahead of the game. Shi Yong certainly knew. He picked it years ago. And so, here we are now, entertainers.
Go West!
West Bund is in a remote bit of Xuhui, a long way away from the Waitan (the Bund). It was once devoted to heavy industry and even had an airport, but now it's an 8 km-stretch of arts precinct and the former aircraft factory is an art fair pavilion. The leases though are only for 5 years and the condos are already encroaching. Only 5? Yes, but that hasn't held anyone back. In Shanghai, 5 years is a long time. And if it works, it will probably stay anyway. So relax!
Admittedly, some of the half-hearted museums look more like gardening equipment someone forgot to put away. Then again, it is exhilaratingly egalitarian too—really anyone can have a museum. And higher-up the food-chain, they do. Here are a few names to register: Shanghai Himalayas Museum (formerly the Shanghai Zendai MoMA); Shanghai 21st Century Minsheng Art Museum (M21) (founded by China Minsheng Banking Corporation and located in the former French pavilion of the 2010 World Expo); the Long Museum, West Bund (because there is another one in Pudong too); Yuz Museum (founded by Indonesian-Chinese businessman, Budi Tek), Shanghai Center of Photography / SCôP (established by renowned photographer Liu Heung Shing); and currently in progress are the START Museum (founded by He Juxing) and KTV-king, Qiao Zhibing's museum, Tank Shanghai in converted oil tanks (in the meantime he has Qiao Space, also in the area). Further afield, just opened is Fosun Foundation at the Bund Financial Center and designed by Foster + Partners and Heatherwick Studio, and Shanghai Ming Contemporary Art Museum (McaM) in the northern Zhabei District, and under development in the South Bund area, is the Powerlong Museum, which is backed by Macao businessman Xu Jiankang, Chairman of Powerlong Group. Phew.
And that's just (some of) the museums. In 2014 West Bund Art Storage, a partnership between the West Bund Development Group, a State-Owned Enterprise, and Euroasia Group, a Swiss logistics business and owner of Singapore Le Freeport, opened a 5,000 sqm tax-bonded art storage facility and currently being upgraded, while Eurasia Group has announced plans to build a 25,000 sqm facility, Le Freeport West Bund. It's all about the ecosystem.
And then there's
West Bund Art & Design
fair, now in its third year. The director is
Zhou Tiehai
, artist, curator, and former
Minsheng Art Museum
art director. Despite the melee of collectors, more than once I have heard that the real pillars of the Shanghai art scene are
Lorenz Helbling
of
ShanghART
, the artist
Xu Zhen
, and Zhou Tiehai. It was Zhou who
launched the West Bund fair
after just 8 months preparation, an extraordinary feat.
Finally, the Shanghai Biennale is held in the Power Station of Art, the first government-owned, major contemporary art museum. When it was announced that the biennale would open in mid-November, both West Bund Art & Design and ART021 quickly adjusted their schedules to coincide with it. Largely, the strategy worked. West Bund opened earlier in the week, then ART021, and finally the Biennale. ART021, in its fourth year, is located in the heart of Jing'an district, a 30-minute drive away. West Bund is located next to a cluster of museums and galleries, that includes Yuz Museum, SCôP, the new ShanghART space, Aike Dellarco, Singapore collector Xue Bing's Pond Society, Qiao Space and, a short walk down the road, Xu Zhen Store and Edouard Malingue Gallery. There aren't a lot of shops or cafes, the metro station is a hike, and taxis can be sparse (especially now that Uber has been deleted).
Fewer galleries but bigger spaces is the motto of West Bund. The hall is airy, the atmosphere more curatorial than at ART021. Of the two, it is the more serious show but that does not necessarily mean more successful (relatively high tax on imported art works remains a drag on the market for international art). Meanwhile, ART021 is easier to get to, and to leave. Prices are generally higher at West Bund too. Some galleries attended both fairs, such as Massimo de Carlo (Milan, London, Hong Kong),  and mega-galleries Hauser & Wirth, Pace, Galerie Perrotin and David Zwirner. Berlin gallerist Esther Schipper managed to make stunning presentations in both—a triumph of logistics as much as aesthetics and curation. Others stuck to just West Bund, such as Blain Southern (London/Berlin), Kukje (Seoul), White Cube (London/Hong Kong) and Gladstone Gallery (New York/Brussels). Some notable galleries were absent entirely, including Marian Goodman and Victoria Miro. We will have to see whether they change their minds next year.
Many (particularly gallerists quoted in magazines) have remarked that Shanghai is the future. But the future isn't now. To misquote John Maynard Keynes: in the future, we are all dead. West Bund has all the ingredients. The question now is purely commercial—can it make commercial sense fast enough to succeed? Usually an art fair has just three years to prove itself before it starts going stale. West Bund has done a great job so far, and if anyone can secure its future, it is Zhou Tiehai.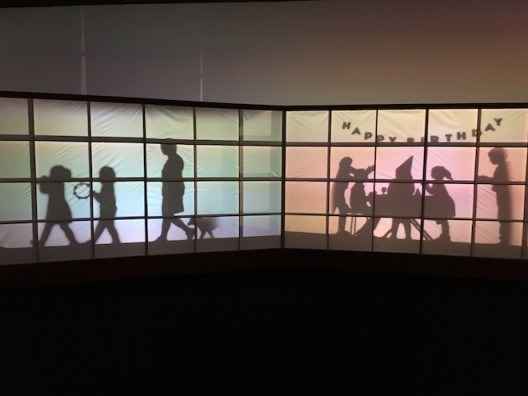 For those wanting to take a break from art, there was the virtual art experience, at DSL Collection stand.
ShanghART 20 years
ShanghART has moved from its home at M50 to fancy new premises, and it opened with a star-studded show of its artists, including Zeng Fanzhi, Ding Yi, Xu Zhen, Liang Shaoji and also some of the most influential German expressionists of the past 50 years, including Markus Lüpertz and Jörg Immendorff.
Alex Katz
Timothy Taylor took over a pavilion to put on the biggest solo-show in China of Alex Katz. Taylor, yet another protege of fabled London dealer, Anthony d'Offay (others include Ben Brown, Pilar Corrias, Sadie Coles (all three of whom also showed at West Bund) and Simon Lee (London, Hong Kong) and James Cohan (New York), who formerly had a space in Shanghai too), is also meticulously building his China network. Along with Berlin's Kewenig Galerie, Taylor is one of the people behind Sean Scully's recent exhibitions in various cities around China, including Shanghai, Nanjing and Wuhan in Hebei Province.
Yuz and She
The last time we criticised Yuz Museum, Budi Tek contacted me to complain. He complained that the writer was anonymous. I explained that while the writers were anonymous, Ran Dian is not. He also complained that Yuz is doing its best to build an institution and it is anything but easy, including finding staff. He has a point. The growing-pains of Yuz are felt by many nascent institutions in China. Certainly Yuz has held numerous important and highly popular and entertaining exhibitions, including Giacometti, Random International's Rain Room installation, and now Andy Warhol's "Shadows", a huge single-work installation loaned from the Dia Foundation. All of which is commendable. He is also a master at bargaining, which allows him to manage his collection (all serious collectors are to a greater or lesser degree also art dealers). This alone however will not secure the longterm financial or curatorial security of Yuz.
The problem Yuz faces is a general one. Museums are growing in China at an incredible pace but there is not the curatorial or administrative talent pool, let alone infrastructure and experience, to cope. Yet action must be taken, because meanwhile institutions will suffer as a consequence. Most importantly, as ungrateful as it may sound, founders must not be directors. They need to stand back from the everyday running of the museum. They must be trustees and chairpeople, not curators. Solving this, however, is easier said than done.
Which brings me to "She", a large, unwieldy exhibition at Long Museum, curated by its director and co-owner, Wang Wei. A number of collectors, foreign and local, said to me "Ran Dian should criticise She at Long Museum". They didn't volunteer themselves and, interestingly, no artists commented. There are a number of excellent and even important works in the exhibition (notably, Xiao Lu's "Dialogue" 1989) but the display lacks a thorough curatorial structure. It is a personal display of works bought for personal reasons. There is nothing wrong with that but the bigger you are, the more prominent, the more comment is invited. Long Museum has extraordinary collections of classical Chinese art and antiquities and also of revolutionary art. The contemporary art collection is somewhat mixed. To develop the way institutions in America have for so long and from not dissimilar beginnings, Long Museum needs dedicated curatorial directors.
Qiao Space
Qiao Zhibing is a gentle, charming, almost shy collector. He is also a KTV tycoon. Most KTV businesses are similar (most? probably all). Mainland Chinese are pragmatic about it; foreigners find it harder—sometimes literally. Some foreigners shout about it even (shout out to Kenny Schachter at artnet).
Much of Qiao's art collection is displayed in his KTV palace in Shanghai. The Tomás Saraceno installation, the Yang Fudong photographs, the Xu Zhen hanging figure can look a little incongruous. Or somehow transformed? Hauser & Wirth teamed up to show Martin Creed solo-show at Qiao Space, the temporary exhibition space being used until Qiao's museum opens. And it was good.
As the taxi pulled away from the Long Museum, I glanced back through the rear window. A woman was vomiting into the garden. Well, it had been a long day.