Neutral Viewing – Walter Bosshard's Visual Archive
A Highlight Exhibition of "Himage" Season 1
Shanghai Himalayas Museum
[Press Release]
The Shanghai Himalayas Museum is pleased to present "Himage", a new annual platform featuring a cluster of exhibitions centering on the concepts of photography, moving images, interactive new media and virtual reality technologies as a response to the fact that such technologies have already become an integral part of the practices of contemporary art.
On August 12, 2017, the first season of "Himage" will be open to public. The first season will feature five solo and group exhibitions of artists from China and abroad. The five exhibitions include: Neutral Viewing – Walter Bosshard's Visual Archive, Combing for Ice and Jade – Kurt Tong Solo Exhibition, Country of Ambition – Yan Ming Solo Exhibition, "Rolling", Keep Rolling: LaoZhu's Works 1994-2004 and Running Target – Entities, Narratives and Order Production under New Algorithm.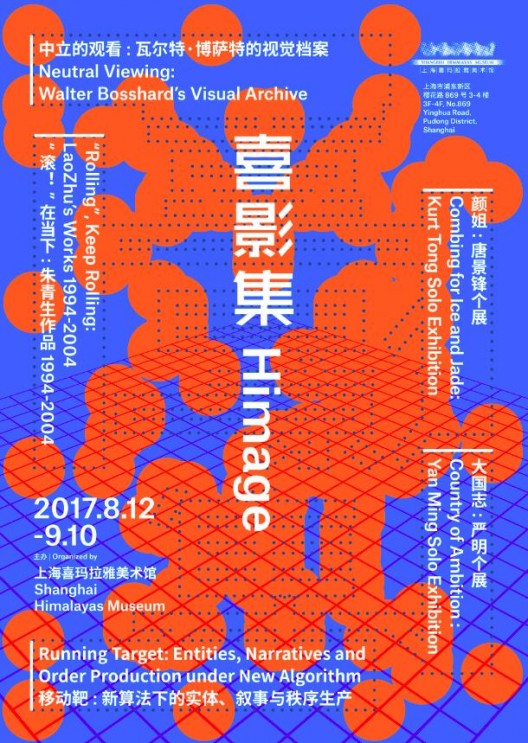 A highlight of this year's "Himage" is Neutral Viewing – Walter Bosshard's Visual Archive, which will be on view at the atrium space of the museum. According to Duan Yuting, curator of the exhibition and director of Lianzhou Foto Festival, "Sensationalism is not needed in the written records of history and any biased motives of the author should not be tolerated. The same is true for visual historical records. Under the current circumstances where there is very limited amount of work by domestic photographers from that period, we cannot expect the works of western observers to be completely without any hint of prejudice or bias that was ingrained in their approaches or methodologies. We can only attempt to identify and re-organize those visual historical records with genuine impartiality and objectivity through careful examinations and studies. It's quite a relief to see the numerous photographs about China left by Walter Bosshard. To some extent, they embody a type of neutral and unbiased observation from western photographers at that time."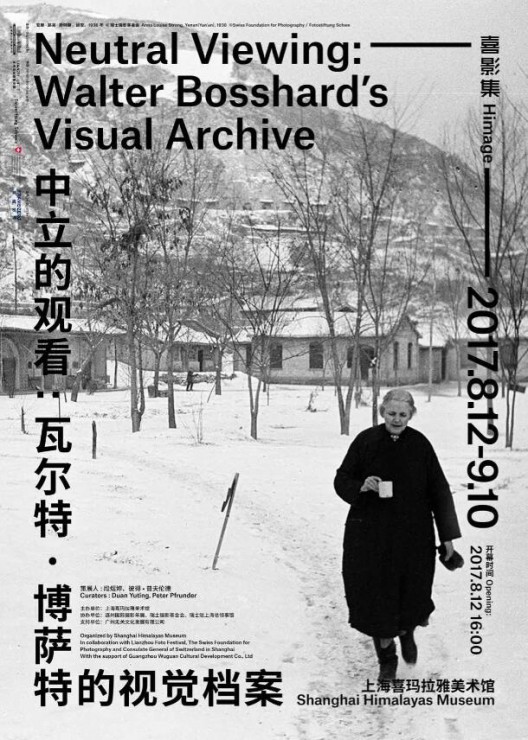 Bosshard was born on the 8th of November 1892 in Zurich. In 1912, he enrolled at the University of Zurich where he studied Pedagogy and History of Art. He found work as a commercial agent in the Far East. His numerous interests allowed him to travel extensively. He cultivated a strong interest for photography, which derived from his desire to visually document his journeys and pushed him, in the mid-1920s, to improve his technical photography skills.
Hailed as the Swiss pioneer of modern photojournalism, at the beginning of the 1930s, Bosshard became one of the most requested reporters for German-language newspapers. In 1930, Bosshard published a work of photographs detailing Mahatma Gandhi's private life, including photographs of the salt march. He came to China in 1931 and in April 1938, after meeting Zhou Enlai in Wuhan and obtaining a special passport for Yan'an, he, and the American journalist A.Steele of the Chicago Daily News, went to Shaanxi with a convoy of trucks loaded with goods. Bosshard was the first European journalist to interview Mao Zedong which he did in Yan'an. He coined the notion of China in the West in the 1930s and 1940s with his media coverage during a martial phase with radical changes in the whole country.
With the sharp intuition of a photojournalist and a strong capability in socialization and communication, Bosshard greatly expanded his social circle during his stay in China to include government officials, dignitaries and celebrities at the top, as well as small tradesmen, porters and average citizens at the bottom. The subjects of his work not only cover a wide range of aspects such as politics, economy, social customs and culture, but also include visual samples of small villages and towns on the countryside and minorities residing in remote regions of Mongolia and Qinghai.
The last fifteen years of his life were spent in Switzerland and Spain. Between 1959 and 1962 he recollected his "memories" and wrote two books. Walter Bosshard passed away in Torremolinos on the 18th of November 1975 at the age of 85.
Neutral Viewing – Walter Bosshard's Visual Archive is organized in collaboration with Lianzhou Foto Festival and Consulate General of Switzerland in Shanghai, and has received tremendous academic support from Duan Yuting and Peter Pfrunder, co-curators of the exhibition. Special thanks should also be given to the Swiss Foundation for Photography and the Archive of Contemporary History, ETH Zurich, for their valuable collection.
The exhibition will run through September 10, 2017. Stay tuned for more information of "Himage".
About Shanghai Himalayas Museum
Established in 2005, the Shanghai Himalayas Museum (formerly known as Shanghai Zendai MoMA) was founded by Dai Zhikang, chairman of Zendai Group. The building of the museum is designed by renowned Japanese architect Arata Isozaki. With vision and an open mind, the museum has, since its establishment, played an active role in exploring new patterns in the context of the contemporary society, furthering the study of art in terms of both breadth and depth, breaking down barriers among different disciplines with a contemporary touch, integrating the contemporary with the traditional and promoting communication and collaboration between China and abroad in the realm of culture and arts to showcase and interpret the notion of a public-oriented museum.